This first outing for the WP Awards cut a wide swath across the advisor channel, with winners in 21 categories drawn from across this country.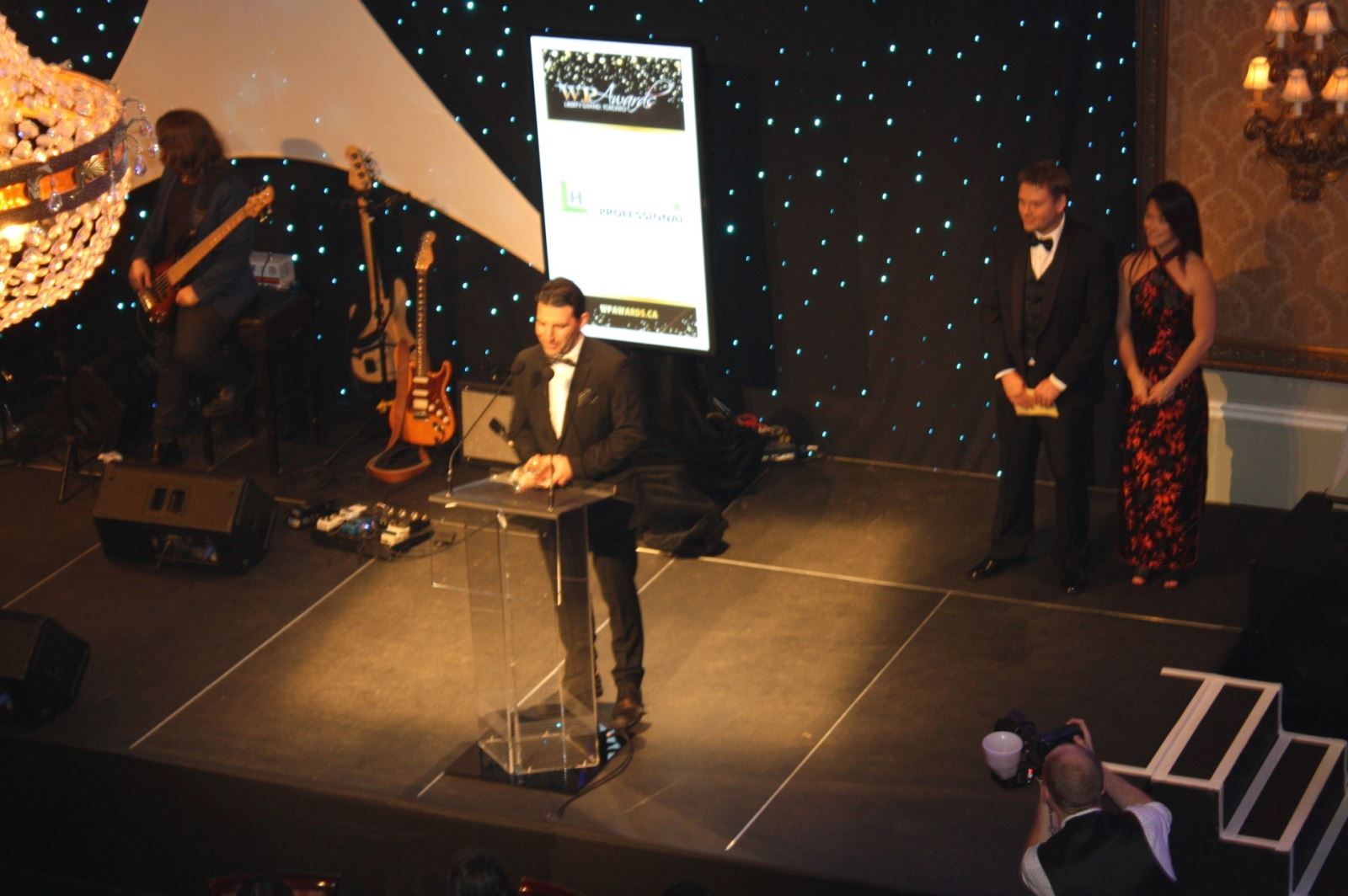 Michael Lee-Chin is not short of praise and admirers, but it was still a big deal for the industry legend to take home a lifetime achievement honour at the inaugural Wealth Professional Awards Friday.
"I've received many accolades and awards throughout my career but this one means a lot," said Lee-Chin, the Chairman of
Mandeville
Holdings Inc. "To be recognized by your peers is the greatest recognition because they are also your competition. It's always humbling to pursue your passion and be recognized for it – a blessed feeling."
The industry vet was among 400 industry professionals gathered for the first-annual WP Awards gala at Toronto's Liberty Grand , with Invesco as title sponsor. A Saskatchewan veteran, Rod Tyler, was honoured with The Invesco Canada Award For Advisor, Lifetime Achievement.
Overall, the awards cut a wide swath across the advisor channel, with winners in 21 categories drawn from across the country. It was produced by KMI Publishing and Events – the organization behind Wealth Professional magazine.
The celebration also speaks to the industry's perseverance and victory over increasingly difficult regulatory and economic challenges.
Advisors have been quick to adapt in order to compete in the new environment. In times like this customer service has never been more important.
"In this environment of robo-advisors, CRM2 and regulations, we think that's important but what really matters is client relationships and making a difference for them," said Bev Evans, from Evans Wealth Management-
Richardson GMP
who scooped The
Questrade
Smart ETF Award For First Class Customer Service.
But arguably the biggest winner of the evening was Stephen Jones from
Assante Wealth Management
who took home The
Mandeville Private Client
Award For Advisor Of The Year.
"I'm honoured to be part of this great event," said Jones. "It's tremendous. We've really worked hard revising our processes to help clients look forward five years and 10 years."
The judges of the awards were: Greg Pollock, President of
Advocis
; Chris Polson, Vice President of global advisory firm Duff & Phelps Ltd.; Sean Cleary, BMO Professor of Finance at Queens University; Robbie Wildman a retired advisor and past president of
Advocis
; and Ellen Bessner, a partner with Babin Bessner Spry LLP.
And the winners are ...
The BlackRock Award For Portfolio / Discretionary Manager Of The Year
Rob Tetrault, Rob Tetrault Wealth Management Group,
National Bank Financial
The Advocis Award For New House On The Block
Elie Nour
Group,
Manulife Securities
The TSX Private Markets Award For Outstanding Internet Presence
Dan Bortolotti PWL Capital Inc.
The Titan Equity Group Award For Multi Service Advisor Of The Year
Arthur C. Salzer,
Northland Wealth Management
The NEI Investments Award For Socially Responsible / Impact Investing
Ryan Colwell, IPC Investment Corporation
The EXT Marketing Inc. Award For Advertising Campaign Of The Year
Mackenzie Investments
The Humanitarian Coalition Award For BDM/ Wholesaler Of The Year
Alain Desbiens
,
BMO Global Asset Management
The De Thomas Financial Award For Young Gun Advisor Of The Year
Jeff Ber, ScotiaMcleod Financial Services Inc.
The Award For Lifetime Achievement In The Financial Planning Industry
Michael Lee Chin
The Dundee Goodman Private Wealth Award For Best Community Service Effort Of The Year
Kirk Brugger, Brugger Wealth Management - Fundex
The Home Trust Company Award For New Advisor On The Block, Newcomer Of The Year
Ludovic Siouffi,
Canaccord Genuity Wealth Management
The Questrade Smart ETF Award For First Class Customer Service
Bev Evans, Evans Wealth Management-Richardson GMP
The Life / Health Professional Award For Young Gun BDM / Wholesaler Of The Year
Anthony Chouinard
, Invesco Canada
The CFA Society Toronto Award For Outstanding Advisor, Alternative Investments
Michael Prittie, Mandeville Private Client / Adam Capital Wealth Architects
The Award For Fund Provider Of The Year
Dynamic Funds
The Financial Planning Standards Council Award For Best Practice Individual Advisor Office - 25 Staff Or Less
Kevin Hegedus
& Kevin Haakensen, Prairie Wealth Management of Hollis Wealth, A Division Of Scotia Capital
The Univeris Award For Outstanding Advisor Insurance Channel
Wade Baldwin, Baldwin & Associates Financial Services Ltd - Sunlife Financial
The Wealth Professional Magazine Award for Outstanding Industry Service Provider Of The Year
Advisor Websites
The Invesco Canada Award For Advisor, Lifetime Achievement
Rod Tyler, Tyler Group - Peak Investment Services
The FundSERV Award For Advisor Network / Brokerage Of The Year
Dundee Goodman Private Wealth
The Mandeville Private Client Award For Advisor Of The Year
Stephen Jones, Assante Wealth Management