Jump to winners | Jump to methodology | View PDF
RISING TO THE CHALLENGE
The last couple of years have been an unpredictable ride for everyone. While the phrase 'unprecedented times' might have grown a little wearisome, it's one of those clichés that exists for a reason. The pandemic impacted every single industry, and the world of wealth management was no different.
It also proved to be a greater setback for women in the industry than men. A recent Accenture survey showed that 59% of women in senior wealth roles felt their careers had been adversely affected, and 29% of women working in financial services said they had left their job either permanently or temporarily during the pandemic.
There's never been a better moment, then, to put women back in the spotlight – and celebrate their invaluable contributions to Canada's wealth management industry during 2021.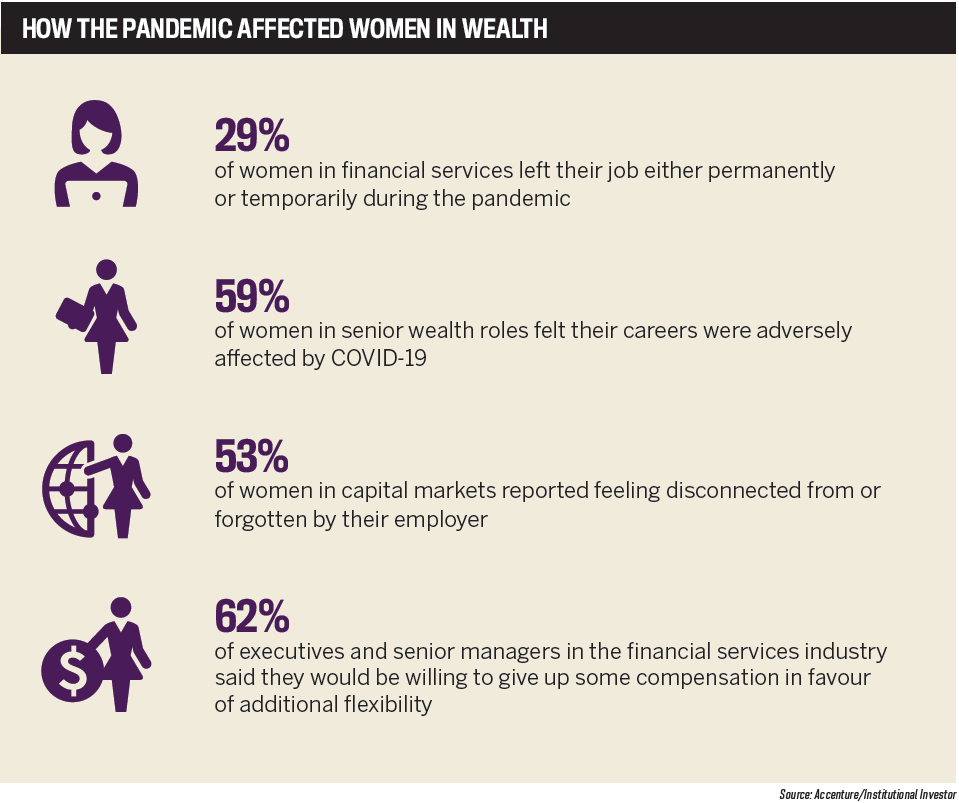 Adapt and thrive
"The challenges [we faced in 2021] have been largely operational," says Robyn K. Thompson, president of Castlemark Wealth Management. "The inability to meet with clients and prospects and their families personally has been one of the biggest challenges for all advisors."
The switch to remote work was a massive paradigm shift for many – particularly those women who were also juggling childcare and other personal responsibilities. Yet this year's 5-Star Leading Women in Wealth don't shirk from a challenge.
"[Transitioning to remote work] hasn't been easy, but it did allow us to maintain those all-important channels of client communication," Thompson says.
"Castlemark's investment in robust technological infrastructure paid dividends immediately."
Using technology to adapt to the 'new normal' seems to be a challenge shared by all the winners. While many see it as a temporary stand-in for face-to-face business ("There are such great benefits to in-person meetings and the opportunity to build those personal connections," says Darcie Crowe, SVP and portfolio manager at Canaccord Genuity Wealth Manage-ment), the remote revolution has also opened new doors for many women in the industry.
"I feel I've been very innovative in my creation of communication channels for clients and prospects," says Nicole Deters, principal and investment advisor at Gilman Deters Private Wealth at Harbourfront Wealth Management. "By embracing technology, I've secured more opportunities to be a financial educator, using social media platforms to broadcast webinars and live financial topic chatrooms and client events. These new service enhancements have allowed me to continue to raise the bar for client accommodations and ensure I'm staying relevant in my clients' lives."
A more tech-centric landscape was just one of many changes the 5-Star Leading Women in Wealth had to adapt to in 2021. In fact, adaptability in all its forms was the main ingredient in many of their success stories.
"I believe that resilience and the ability to adapt have been key to thriving during this period," says Jacqueline Johnson, a financial planner at Coast Capital Wealth Management. "We have taken the time to listen to our clients and help them filter out all the noise and focus on what's most important to them."
That focus on clients – listening, learning and tailoring services toward their unique and evolving needs – has also helped the 5-Star Leading Women in Wealth deliver the goods over the past year.
"The year brought unexpected changes for many, and increased uncertainty amplified a desire for concrete financial and estate plans," Crowe says. "Clients were looking for reassurance that they would be OK. Given that this is a critical component of our approach, we really saw firsthand how having those plans in place can be hugely valuable. Our focus on the full financial picture has been incredibly important in working with clients over the past year."
The appeal of advocacy
While advocating for the needs of clients is critical, advocacy for the industry in general was also a common thread among this year's winners. Whether it's striving for gender equity or other forms of inclusion, the drive to make an impact has seen an inspiring boost over the past year.
"With my understanding and appreciation of the benefits of a more diverse and inclusive workplace environment, I've focused energies these past number of months on fostering strong relationships with my female peers and circles of influence," Deters says.
This desire to make things better stretches far beyond the workplace, too. Deters adds that it's important for women in wealth to use their influence to make a positive impact in their community or the world in general.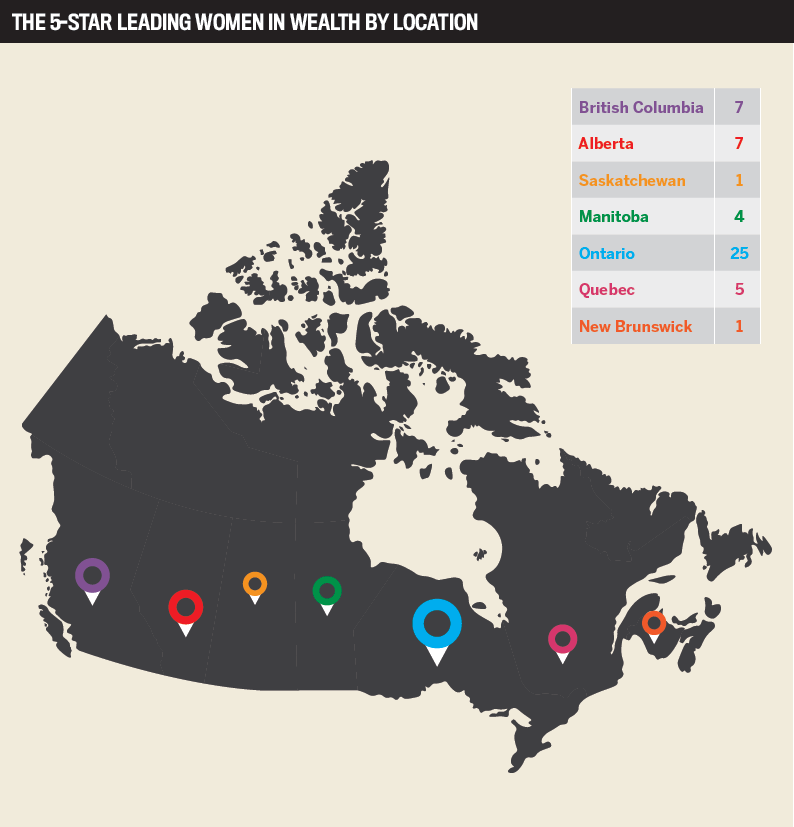 "Another measure of success that I feel is evident [this past year] is my exposure and impact within the non-profit sector within my community," she says. "Recognizing that the traditional fundraising landscape for NPOs had changed, I introduced and assisted in the creation of legacy gifting programs for a number of local charitable organizations to ensure their societies' sustainability into the future."
It makes sense that, in what is still a male-dominated industry, women highly value the prospect of supporting other women in their careers.
"As a woman in real estate private equity, I had to stand tall and strong, shoulder to shoulder with my male counterparts," says Ava Benesocky, CEO of CPI Capital. "Being the only woman on Zoom calls with property managers, asset managers, acquisition directors and other executives has not been an easy task. However, it is a challenge I welcomed."
To rise to that challenge, many of the 5-Star Leading Women in Wealth keep mentorship, leadership and old-fashioned encouragement front of mind.
"When I started off in my career, I had strong female role models," Johnson says. "They were confident, passionate and caring individuals. If we can model anything for other women in their professional careers, it would be to support each other and to believe in the power of encouragement. Encouraging each other, we can accomplish so much more than we can alone."
As for how the industry can keep encouraging women to thrive and restore the progress toward equity after such a trying time, Darlene Hart-Wolstenholme, a financial advisor at Edward Jones, has some thoughts.
"We should have strategies in place for improving leadership opportunities for women," she says. "[We should also] embrace the development of peer groups for the women in the wealth industry [and] highlight veteran females who can serve as mentors for the next generation of younger females who are entering or wish to enter the wealth industry."
Andrea Casciato


Head of North American Digital Investing Sales and Service, BMO Financial Group

Anne Wildfong


Senior Vice-President and Portfolio Manager, Leon Frazer & Associates, an affiliate of CWB Wealth Management

Ava Benesocky


CEO, CPI Capital

Aya Kadi
Associate Investment Advisor, 3Macs, a division of Raymond James
Christine Fortin


Senior Wealth Advisor, BMO Private Wealth

Darcie Crowe
Senior Vice-President and Portfolio Manager, Canaccord Genuity Wealth Management
Darlene Hart-Wolstenholme


Financial Advisor, Edward Jones

Dilys D'Cruz


Vice-President and Head of Wealth Management, Meridian Credit Union

Emily Newman


EVP, Sales, Wealhouse Capital Management

Gloria Malek
Investment Advisor, TD Wealth Private Investment Advice
Ida Khajadourian


Director of Wealth Management, Portfolio Manager and Investment Advisor, Richardson Wealth

Ingrid Denda


Financial Advisor, Assante Capital Management

Jacqueline Johnson


Financial Planner, Coast Capital Wealth Management and Worldsource Financial Management

Jade E. Sheiner
Investment Advisor, Manulife Securities
Jane Cheong


Senior Vice-President and Financial Planner, T.E. Wealth, an affiliate of CWB Wealth Management

Jessica Keus


Investment Advisor, Enhanced Wealth Management - Wellington-Altus Private Wealth

Joelle Ritter


Vice-President, Wealth Management Client Solutions, CWB Wealth Management

Julie Shipley-Strickland


Wealth & Risk Management/Bergh Tatomir & Associates – Wellington-Altus Private Wealth

Kacie Linn


President, Sound Life Solutions

Kareen Stangherlin


Founding Partner & CEO at Zelos Capital Ltd.

Karin Yorfido


General Manager, Global Technology & Operations, Broadridge Financial Solutions

Kelly Demo


Executive Vice-President and Senior Wealth Advisor, West Oak Family Office - Wellington-Altus Private Wealth

Kristin Ramlal
Securities Specialist, Canada Life
Laurie Bonten


Founder, Senior Vice-President and Senior Investment Advisor, Enhanced Wealth Management - Wellington-Altus Private Wealth

Letitia Fluit


Wealth Advisor, IPC Securities Corp.

Linnea McKercher


VP, Portfolio Manager, CWB Wealth Management

Lisa Lake Langley


CEO, President and Founder, Emerge Canada

Loretta Carbonelli


Chief Compliance Officer, CWB Wealth Management

Lori Weir


CEO, Four Eyes Financial

Lumi Mironescu


Investment Advisor, Investia Financial Services

Maria Flores


Chief Compliance Officer, Carte Wealth Management

Maria Ioannou


President and Chief Financial Officer, Rothenberg Capital Management

Michelle Connolly


Senior Vice-President, Advanced Wealth Planning, Wellington-Altus Private Wealth

Sarah Jones


Senior Investment Advisor, Partner, Rosedale Family Office – Wellington-Altus Private Wealth

Stephanie Hickmott
Vice-President, Portfolio Manager, Leith Wheeler
Stephanie Vincec


Financial Advisor, Keybase Financial

Taayla Mark


Financial Planner, Engrace Financial Solutions

Tanya Rowntree
Global Head of Client Success, Capital Formation, TMX Group
Tina Tehranchian


Senior Wealth Advisor, Assante Capital Management
Nominators were asked to describe their nominee's standout professional achievements over the past 12 months, along with their contributions to diversity and inclusion in the industry and how they've given back through volunteer roles and charity work. Recommendations from managers and senior industry professionals were also taken into account.