CFO made the switch, after initial hesitation, as COVID-19 panic set in and is helping spearhead company's aggressive growth strategy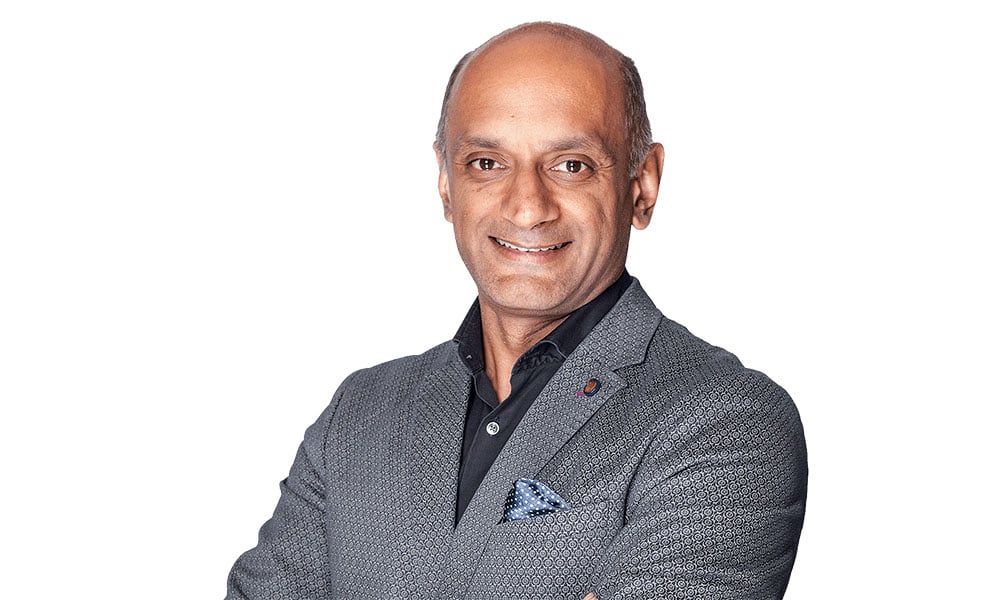 When Bijal Patel was initially headhunted by Nicola Wealth, he wasn't looking to move. Happy at CIBC as an EVP, he nevertheless jumped on a plane to Vancouver, thinking he had little to lose by meeting management face to face. Within an hour of talking to CEO John Nicola and hearing his vision for the future of wealth management and advice-based solutions, he was sold … almost.
By the time all the details had been worked out, it was March 2020 and he was in Florida with his wife. He'd signed the contract but hadn't yet left the bank. Then news of COVID-19 filtered through from China, by the next day it was in Europe, and by the day after there were fewer people in the pool. Panic had already set in among the North American holidaymakers. Am I crazy to accept a new job in wealth management now, Patel thought.
John Nicola sensed he was "dragging the puck" and called Patel, reassuring him about the future of the firm and its ability to turn a profit even in tough times. It sealed the deal, and he was soon named the firm's new CFO. "Looking back now, it's the best career decision I ever made," he said.
As part of Nicola Wealth's rapid Ontario expansion, Patel is relishing its ambitious growth targets. When he was hired two years ago, he was employer #7 in the province. Now there are three offices and 60-plus staff, while Danielle Skip was recently named managing director for the Ontario operation. The company staff numbers across the board have also almost doubled.
READ MORE: Nicola Wealth merges with Ontario wealth management firm
Unafraid of aiming high, Patel wants to see the province become 30-40% of the business by 2025 and AUM, which is currently at $400 million, hit the $20 billion mark.
He said: "We're growing rapidly but it's a small base and the actual dollar AUM coming into Vancouver is obviously much larger. The big secret sauce we found in Vancouver has always been client referrals - 80% of our new clients come in from an existing client base.
"To get that flywheel going in Toronto, we need more clients. So, we've been looking at various M&A opportunities with private investment advisory firms to see if they're a match from a cultural point of view. And if they're willing to join and partner with us, that will be the best way to get up to something like a billion dollars. Once we do that, we can get that Vancouver flywheel working a lot better in Ontario with referrals."
This entrepreneurial approach suits Patel down to the ground. At CIBC, he proved adept at launching new lines of business and Nicola swiftly made him head of private capital. Since then, he's been busy looking for partners to help grow the division with the plan, over time, to internalise that capability.
A key element to the firm's Ontario expansion plans is its position as a cash-flowing business. Aside from its new venture capital fund, which is in positive cash flow but is more a bet on the future, all its other funds focus on cash-flowing businesses in industries that are not cyclical or prone to government regulation.
Patel said: "We offer a pretty big spectrum in terms of what we look for in clients. We've got the lowest-risk commercial mortgages, where you try to get 4-5%, and that moves up to venture cap, which would be the highest risk return at about 12% to 15%. We've got a portfolio that sits all the way along that spectrum through infrastructure, private debt and private equity."
While the pandemic was undoubtedly a scary time for investors, Nicola Wealth found that clients were not redeeming but taking the opportunity to be more opportunistic, especially if they had cash on the sidelines. As the new CFO, Patel was initially worried about liquidity as he'd seen people make a run on funds in previous roles. However, he told WP he soon appreciated the strength of Nicola's planning and advisor group in explaining the situation and keeping them invested.
He added: "Part of it is probably the markets and people coming in looking for more equity exposure, but part of it is our firm, our brand and people getting to know what our offering is. The private asset side of it is a unique thing that we're able to offer to our clients – and the differentiator."
In the immediate future, Patel continues to work on M&A deals, with three to five "brewing". He hopes to close one or two of them in the next six months. He said: "We're continuing with a pretty aggressive growth target for next year. Even though we're doing four times our new deposits this year, we don't want that to slow down."