Other Life: Two-day charity ride 'life-changing' for advisor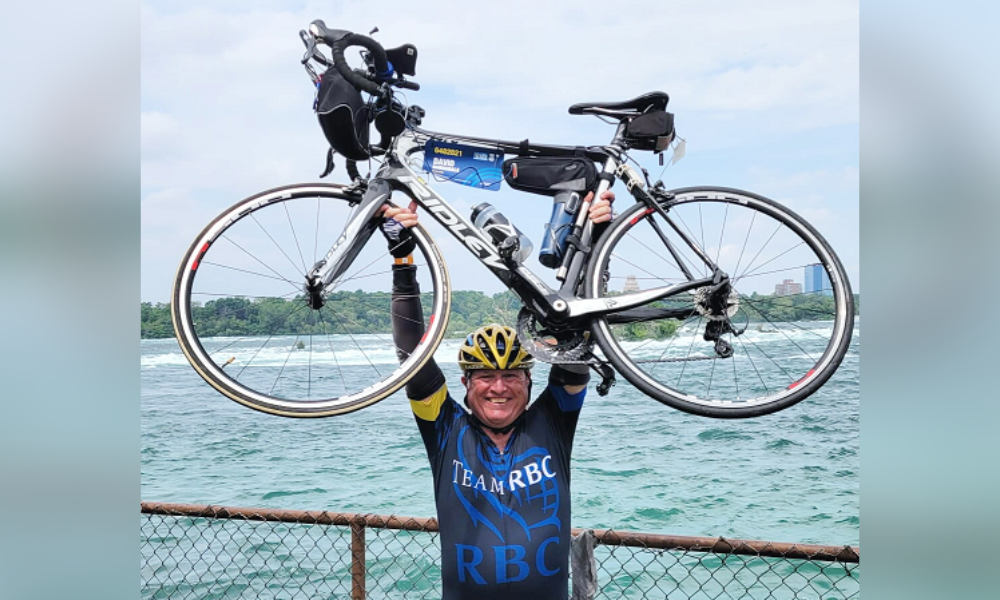 This is our new Friday online feature, called Other Life, which focuses on what financial professionals do when not at their desks serving clients and managing portfolios. If you have a hobby, interest, or achievement that you'd like to share, please email [email protected]
David Barnsdale never considered himself a cyclist, but he's discovered a passion for it during the annual Enbridge Ride to Conquer Cancer, and he's encouraging others to get involved, too.
"Get out there and try it, at least once, it's life-changing," Barnsdale, who is a senior portfolio manager and wealth advisor for The Barnsdale & Hussain Wealth Management Group at RBC Dominion Securities Inc., told Wealth Professional while collecting the $15,000 he raised this year.
Anyone can join RBC's team as long as he or she commits to raising $2,500. Barnsdale has raised as much as $17,500 in the past and is pleased to meet his target for this year to support breakthrough research, exemplary teaching, and compassionate care at Princess Margaret Hospital, one of the top five cancer research centres in the world. RBC riders also get a jersey and pants.
"The other important thing, which I can't stress enough, is that it's a ride. You can take as much time as you want and enjoy the camaraderie. You get to know a lot of people and make a lot friends. I even bumped into people from high school at the ride whom I hadn't seen in decades. But, I can't overstate that it's a ride. It's not a race. Some people think it's a race. It's a ride. It's still challenging, don't get me wrong, spending all day on a bicycle. But, it's motivating. It's inspirational."
Read more: Chief economist optimistic about further economic recovery
The ride now is 15 years old, and Barnsdale has just completed his ninth ride of doing it.
"A colleague who is a very good friend of mine had been bugging me to participate in it for a number of years," said Barnsdale, noting that his dad, uncle, cousin, and good friend all died of cancer. "I just said, 'Forget it.' One year, I finally said, "I'll do it for one year because it's an amazing event."
While he enjoyed the two-day, 215+ km mid-June ride through southwestern Ontario, what really stands out for him are the people who speak at the event or whom he meets along the way.
"When you hear the stories of people and how this saved or extended their lives, it's something to hear their stories that they basically had a death sentence, but now they're still here five, ten years later, and the treatments are getting better," Barnsdale said. "Even if they talk about those who've passed away, it's a lot later than they expected. So, the money does help and I think it's great to hear the stories of where the research money goes and what it does."
Barnsdale is also inspired by the other riders who may still be undergoing cancer treatment and usually have a yellow flag on their bikes, though he said, "I think pretty well everyone who rides has someone who has been touched by cancer. We all have."
Read more: What's preventing clients from writing wills post-pandemic?
The weekend ride from Toronto through Hamilton and Niagara attracts about 3,500 riders, who can set their own space and stop every 20 to 25 kms for refreshments before overnighting at the McMaster University dorm or in their own tents or hotels. There's also entertainment on Saturday night.
While Barnsdale says next year, his 10th, may be his last, he adds, "I've said that every year!" But, he'd mostly like to encourage others to get involved.
"There are too many people who think it's too hard or takes too much time or effort, and it does take a little training," he said, noting he just starts that a little before the race, not months before. "But, the key takeaway is that it's very motivational. Everyone should try it!"