Both industry insiders and industry critics are applauding Finance Minister Jim Flaherty's big win in his quest to form a national securities regulator.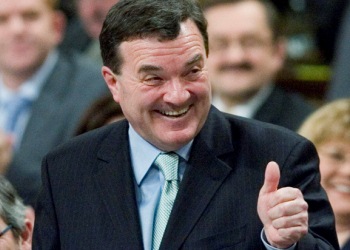 Finance Minister Jim Flaherty scored a big win in his quest to form a national capital markets regulatory system by gaining formal support from BC and Ontario – winning praise from both industry groups and investor advocates.
The federal Ministry of Finance announced that it has reached agreement with its provincial counterparts to establish a cooperative capital markets regulatory system. The parties have invited all provinces and territories to participate in the proposed system.
The announcement was warmly greeted by industry, which is often frustrated by having to deal with 13 separate regulators, one for each province or territory.
"I would like to congratulate Finance Minister Flaherty and acknowledge that his vision and perseverance for a national securities regulator deserve much credit for this outcome," said Ian Russell, president and chief executive of the Investment Industry Association of Canada (IIAC). "The cooperative approach that respects constitutional jurisdiction, and an independent expert board of directors, broadly representative of the regions of Canada and fully accountable, will encourage other provinces to join the cooperative regulatory system."
IIAC represents Investment Industry Regulatory Organization of Canada-regulated member firms. In the mutual fund channel, the move was also welcomed by the Investment Funds Institute of Canada.
"The mutual funds industry already benefits from a highly harmonized regulatory environment through the Canadian Securities Administrators' national instruments," said IFIC president and chief executive Joanne De Laurentiis said in a statement. "Based on the Ministers' stated intention to preserve the elements of the current system that work well, we are optimistic that the new entity should be able to integrate the current set of national instruments into an effective, more streamlined framework."
Separately, the Canadian Foundation for the Advancement of Investor Rights (FAIR Canada), found itself in alignment with the industry associations.
"FAIR Canada is pleased to learn that the governments of BC, Ontario and Canada have announced today an agreement to establish a cooperative capital markets regulatory system," FAIR Canada said in a statement. "The cooperative system announced today is a major step towards precisely what the [Supreme Court of Canada} suggested with Canada and the provinces retaining legislative authority but agreeing to delegate administration to a common regulator."
"FAIR Canada believes that the creation of a common securities regulator, with investor protection as a top priority, will provide greater protection for retail and other investors, while at the same time ensuring that the Canadian securities markets operate as efficiently as possible," FAIR added.
Continued on p.2
#pb#
The planned regulator would be based in Toronto, home to most of Canada's major financial institutions and largest securities exchanges.
"A cooperative securities regulator based in Toronto will provide increased protection for investors, strengthen the competitiveness of Canada's economy, lower costs and enhance the reputation of Canada's financial services sector leading to more jobs and growth," Ontario Minister of Finance Charles Sousa said. "Ontario has for many years taken a leadership role in the creation of a cooperative securities regulator because it is in the best interests of all provinces and will help our businesses grow."
"BC has consistently supported the concept of a cooperative securities regulatory system that respects constitutional jurisdiction, builds on the strong foundation of the current system, improves enforcement, and is responsive to regional markets such as BC's venture capital markets," said BC Minister of Finance Michael de Jong, "This agreement meets those principles and priorities. I hope other jurisdictions give serious consideration to joining the cooperative system."
The federal government believes that the cooperative securities regulator will better protect investors, enhance Canada's financial services sector, support efficient capital markets and manage systemic risk. It will feature a single regulator administering a single set of regulations and be operationally independent and self-funded through a single set of fees.
It will be directed by an expert board of independent directors with broad capital markets-related expertise. A council of ministers of all participating jurisdictions will oversee the cooperative system, the Ministry of Finance said.. The regulatory offices will provide the expertise and capacity needed to serve market participants in all participating jurisdictions.
The Ministers agreed that the cooperative system will preserve the elements of the current system that work well, including the ability to weigh and consider local perspectives, and will achieve needed reforms within a national context.
By pooling provincial and federal expertise, government believes that the the cooperative securities regulator will contribute to a stronger economy, improve investor protection and better respond to increasingly competitive, dynamic and global capital markets.