Zoe Wolpert of Richardson GMP is part of the Wealth Professional Canada Young Guns 2018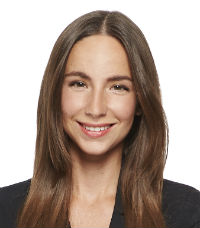 Associate investment advisor
RICHARDSON GMP
Age: 27
Years as a financial advisor: 1
Certifications: Registered representative (CSC, CPH, WME)
Part of the difficulty young advisors experience in building a book of business is the fact that in your early years, your target clients usually aren't in your own demographic. The vast majority of wealth in Canada today is in the hands of baby boomers, who, like most generations, tend to favour advisors their own age. In addition, it can also be a real battle to convince younger people that financial planning is something they need to do, as Zoe Wolpert explains.
"My biggest challenge as a young advisor is that many of my peers working in other industries don't see investing as something they can take part in," she says. "Investing, in their eyes, is for when you are wealthy, not when you're trying to grow."
A millennial herself, albeit one who is now in the position of providing financial advice, Wolpert knows that isn't the case. While there are different levels of investing, there really are options for everyone, regardless of their asset level.
"I actively educate on the positive impact that investing early can have on one's long-term earning potential," she says. "I've found that even though an abundance of information can be found online, having someone explain investing in person is extremely valuable."
That's part of the reason why Wolpert decided to become an advisor herself a little over a year ago. A member of the Richardson GMP group, her early development came via the Horwood Team, then Nicol Sanchez Wealth, where she remains to this day. The training she received at Richardson GMP really sets it apart from its competitors, she believes.
"Both the firm and the advisors I work with have been very active in my progress as a professional," she says. "Through education, networking and coaching, it is made known that supporting young careers is a priority. I think that's unique in this industry and integral to our success."