Rob Bechard of BMO Global Asset Management is part of this year's Wealth Professional Canada's Hot List.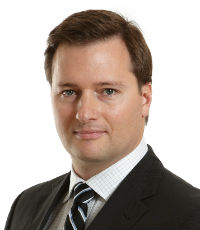 Managing director and head of ETF portfolio management
BMO GLOBAL ASSET MANAGEMENT
The majority of Canada's ETF market is dominated by BlackRock and BMO Global Asset Management, and BMO GAM has led the way in recent years in terms of flows, gaining ground on BlackRock as a result. That's undoubtedly welcome news to Rob Bechard, head of equity and fixed-income portfolio management for BMO GAM's ETF and global structured investments group. Previously a portfolio manager with Barclays Global Investors, Bechard helped BMO GAM finish 2017 as the best-selling ETF provider in Canada, a trend that continued into this year as it generated three-month net creations of $3.2 billion, or 38.3% of total ETF inflows for the period.