IIROC issues prohibition of nearly two years and $20,000 fine for participation in illegal 'gifting club'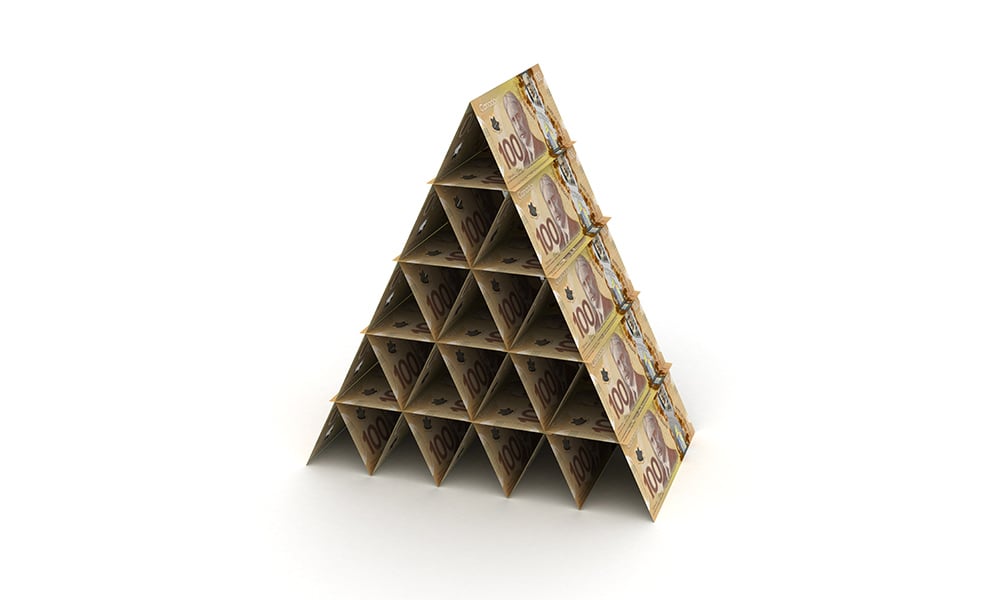 The Investment Industry Regulatory Organization of Canada (IIROC) has announced sanctions for a former investment advisor in London, Ontario it found guilty of being involved in a pyramid scheme.
In a 13-page penalty decision, IIROC detailed how Sean Michael Nother was introduced to a "gifting club" by Dino Delellis, who worked within Ontario's securities industry until he was permanently banned in 1997 for failing to deal fairly, honestly, and in good faith with his clients, among other transgressions.
Over a years-long friendship, Nother came to believe that Delellis was a high-net-worth businessman and sought to get him as a client for his firm. In a May 2018 meeting ostensibly set up to discuss that possibility, Delellis first mentioned his "Gifting Club" or "Vine Club."
As IIROC explained, the club consisted of multiple groups called "Clouds," each of which consisted of four levels of individuals. The topmost "Birthday Position" belonged to one individual; the second level had two members, the third had four, and the bottom-most level had eight individuals, the newest members who were expected to pay a "gift" of $5,000 to the person in the "Birthday Position." To get to the top of the cloud, members have to recruit other participants, and would eventually receive a $40,000 payment as a "gift" when they've pulled in enough new entrants.
"Pyramid schemes are illegal in Canada being in contravention of the Criminal Code and the Competition Act," IIROC noted in its decision.
Claiming that the club was legal from a tax perspective, Delellis invited Nother to join, offering to pay his $5,000 "entry fee." Nother said he later met with his tax accountant to confirm whether there would be tax implications of becoming a member; he claimed the accountant advised him that "gifting was not illegal," and that the Vine Club was legal under tax rules and offered certain tax benefits.
Nother did not join the club, as he knew it would be disallowed as an outside business activity by his firm, but convinced his spouse to accept Delellis's offer of sponsorship. He also introduced a number of client and non-client friends to the club, some of whom ended up joining.
He claimed that he became apprehensive about the scheme that July or August after he read an online article about a similar gifting club being investigated as an illegal pyramid scheme in Vancouver. After a few months, he read another newspaper article detailing how a colleague of Delellis was facing criminal charges in respect to his operation of a gifting club similar to the Vine Club.
In subsequent statements to his firm and to IIROC investigators, Nother downplayed his involvement in the club. But IIROC later found evidence showing he had accepted payments from new members, and that he kept a "master sheet" of names and contact information of people who joined the club.
"We conclude that Mr. Nother saw his involvement in the Vine Club as an opportunity to make some money and at the time ingratiate himself with Mr. Delellis," IIROC said. Nother claimed that at the relevant time, he was in a "bad financial position" and was facing marital problems.
IIROC has suspended Nother from approval or registration with the self-regulatory organization for a 22-month period ending on November 16, 2020. He is also required to pay a fine of $20,000 and costs amounting to $15,000.