A Canadian advisor gives his view on pot producers after shares plunged following an announcement from south of the border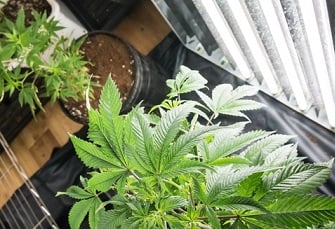 Investors in weed stocks took a deep breath last week after US Attorney-General Jeff Sessions reversed Obama-era policy that helped states legalize marijuana.
Shares dipped – Canadian company Canopy Growth fell as much as 19% before regaining ground – as uncertainty briefly interrupted the rise of a fledging industry that in the same week celebrated California launching its legal marketplace.
Grant White
, investment advisor at
National Bank Financial
, said Sessions's announcement only added to market volatility and is advising clients to tread carefully or to take profits if they have already bought in.
"I'm definitely urging caution at this point," he said. "The true winners haven't presented themselves yet, frankly, so I'm waiting in the weeds to see what happens a little bit and I'm happy to let everyone else ride the rollercoaster in the meantime."
He added that the industry's infancy means there are a lot of unknowns, including the unpredictable interventions of agenda-led politicians.
Canopy Growth responded with a statement on Friday, distancing itself from doing business in jurisdictions where it is illegal. The market also rebounded effectively from Sessions's policy move, with some analysts saying investors simply used it as an excuse to sell.
However, with recreational marijuana set to be legalized in Canada by July, White says the volatility affects companies both sides of the border.
"There is just an expectation that some of these companies here would like to go and sell in the US, whether that's true or not," said Winnipeg-based White.
"There are two classes of investors here that were selling off. Some took it as an opportunity to take profits and they made a ton of money. And there's the other class that I think got a little skittish and maybe got ahead of themselves in terms of where the companies' guidance was going and decided that was bad news for even the Canadian companies.
"Canopy is a great example. Canopy has not expressed any interest, as far as I know, to sell in the States but they were thrown out with the bath water."
White has clients who have bought in but says he has mostly opted to stay away. However, he believes new retail outlets in California "that look like Apple stores" point to an exciting future.
He said: "My recommendation to clients when buying was to go for quality. It's a very difficult space as this whole event has pointed out. I am going for quality or scale as much as possible – and that's a difficult thing to do in that space.
"Canopy is one of the companies we did buy for clients but it is a very small portion of the portfolio, I have to say, because of the risks associated with it."
Related stories:
Some serious considerations for Canadian investors
Plunge in cannabis stocks tests investors