Willful waited until the right moment, prepared to win, and now has significant financing, says CEO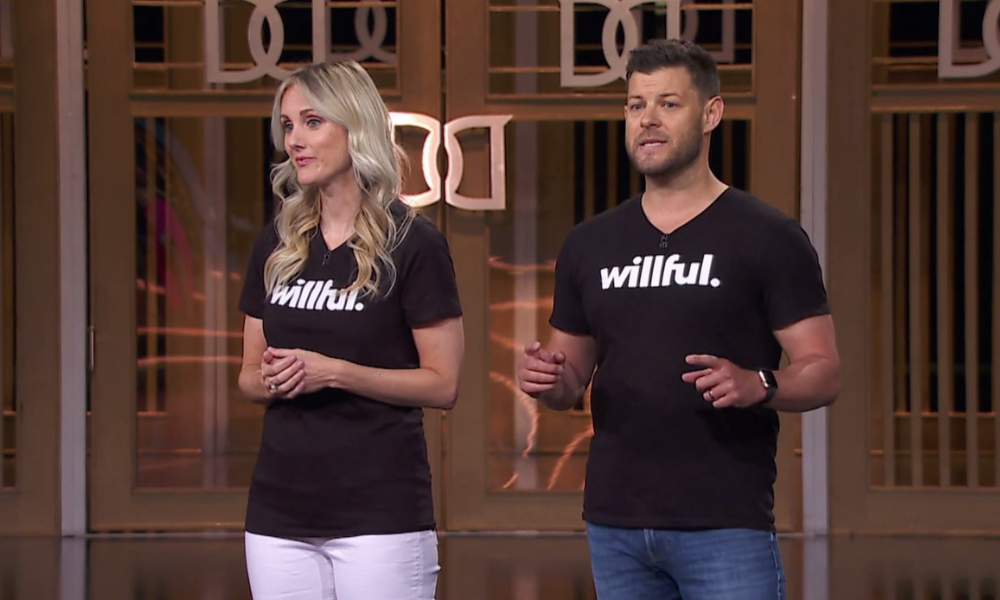 Erin Bury and Kevin Oulds, a wife and husband team who co-founded Willful, the online platform to create wills, were ready for success when they walked into the CBC Dragon's Den studio this year.
"We've been long-time fans of Dragons' Den, watching it and Shark Tank for years," Bury, who is also Willful's CEO, told Wealth Professional. "When we started the business four years ago, we always knew it would be a goal of ours to go on the show. But, we wanted to make sure that we had the metrics and progress that would make for a good pitch and would justify getting a good deal."
The pair saw the call for auditions earlier this year when it was planning to raise more funds this summer.
"We felt like this was our year because we had grown a lot in 2020 and launched a partnership with Allstate," said Bury, noting Willful had also launched its online service in eight provinces and had "really good revenue".
The couple applied online, hoping to raise Canadians' awareness since Willful's mission is to ensure that every Canadian adult has a will. About 57% don't and 10% of those who do say it's out-of-date because of a life change.
The couple had a Zoom interview with some producers and filmed in downtown Toronto in early June. Bury, then half through her pregnancy, said it was a good experience as the dragons listened to their pitch, then asked questions for 45 minutes.
Bury and Oulds were ready. They'd not only prepared their one-minute pitch, but compiled about 40 questions and answers that other investors had been asked on the show over the years.
"We wrote out the answers and practiced them over and over, and we knew which of us would answer which question," said Bury, noting the dragons ask about a company's back story and revenue, and justification for its valuation. She also said the couple wasn't nervous since it had practiced its answers with its work team, family, and friends. "If you have those answers ready and know your stuff, you just look more polished and prepared when you're actually in the den"
But, the other thing she attributed their success to was the fact they'd thought through what they were prepared to negotiate. When the dragon who finally backed them tried to get Bury to give up 10% of Willful, Bury said, "I negotiated her down and added some advisory shares instead of main equity. So, I knew I needed to have those negotiating tactics in my back pocket because I knew they'd ask for a sharky deal."
It paid off: Willful got its deal.
The couple went into the spring taping wanting $500,000 for a 5% investment. But, Willful just announced that it has now secured a total of $750,000 in bridge financing with participation from Michele Romanow, the Clearco founder who is a Canadian technology entrepreneur from Dragon's Den, plus other investors, including Conconi Growth Partners. Bury isn't disclosing how much Romanow contributed. They've given her a convertible debt round, so Romanow's share will convert into equity when Willful raises funds again.
Bury said Willful, which partners with estate lawyers in each province to draft its legal content and ensure it is kept up-to-date as legislation changes, hopes to "become the first consumer brand associated with end-of-life planning," which now includes funeral and estate planning. So, far, the company has created 100,000 documents across eight provinces since it began. This new financing builds on the $1.1 million that Willful raised in May 2020.
Willful plans to use the new funding to increase its 15-person team, invest in product expansion so that it's doing more than online wills, and encourage more Canadians to embrace digital estate planning generally. The first new product it plans to launch in 2022 will help people collect information outside their will so they have an asset list or funeral and burial wishes recorded
It's been quite the year for the couple. Bury and Oulds had their first child five weeks ago, just before British Columbia passed legislation allowing wills to be signed and stored online, so Willful is already building on that. Bury is also excited to be working with Romanow as she helps Willful with its marketing. That includes letting advisors know they can buy Willful's wills in bulk as loyalty or retention tools, which is a growing part of Willful's business.
"Michelle is definitely an expert in building awareness for ecommerce companies and just scaling ecommerce companies," said Bury, noting Romanow's Clearco is also relatively new but worth billions. They've also worked with her to film some ads and develop media campaigns. "I think she'll add a lot of expertise on the company structure side, just in terms of partnerships and potential acquisitions down the road," Bury said. "She'll also add a lot of value on the digital marketing and distribution side of the business."