Low demand and rising interest rates are severely impacting small businesses, says CFIB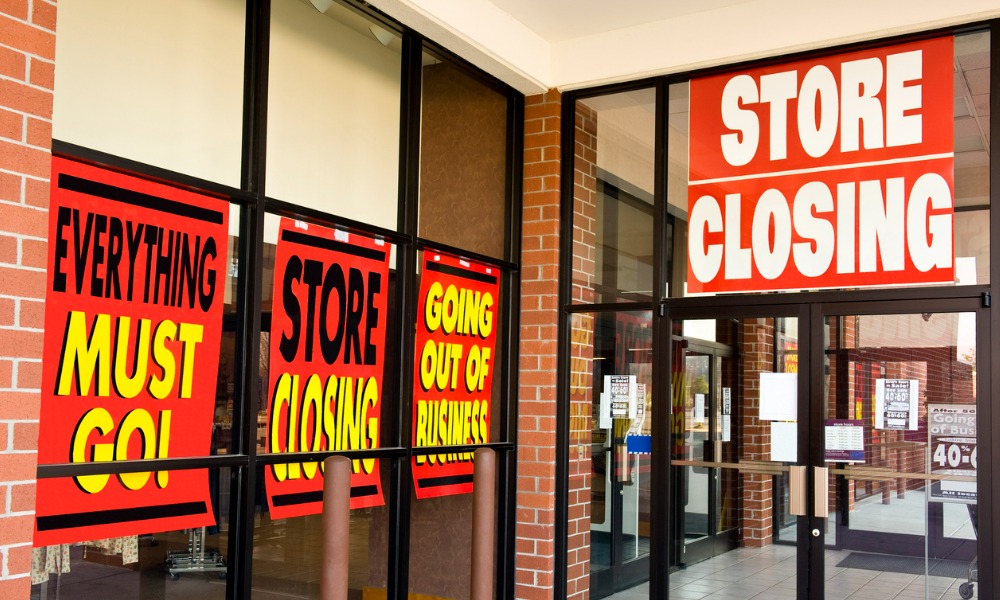 Statistics from Office of the Superintendent of Bankruptcy Canada show that business insolvencies have been rising since mid-2021, but a new study from the Canadian Federation of Independent Business (CFIB), reveals that only 10% of business owners would declare bankruptcy if their company was forced to close permanently.
Simon Gaudreault, Chief Economist and Vice-President of Research at CFIB, said: "Official Canadian data on small business bankruptcies doesn't account for zombie companies or businesses that would rather wind down than file for bankruptcy. Our research provides a broader perspective on business insolvencies in Canada and shows that the rising number of small business bankruptcies is just the tip of the iceberg."
In the study titled Small Business Insolvency: The Tip of the Iceberg?, CFIB said 54% of business owners have not yet reached their pre-pandemic revenue levels. Only 10% of Canadian businesses have been able to repay their pandemic debt in full, and nearly two-thirds of them (62%) still carry it.
The rise in business closures and insolvencies, however, is not only attributable to the pandemic. Small firms are being negatively impacted by rising operational expenses, a lack of demand, and higher borrowing costs.
"During the pandemic, government loans and subsidies helped many small businesses to stay open, but now those programs have closed, despite the fact that a majority of businesses are still not back to their pre-pandemic sales levels," said Dan Kelly, CFIB president.
"With an average debt of $158,000 per business and mounting cost pressures on virtually every line of a small business budget, it's no wonder many businesses are unable to pay off their debt and continue to struggle," he added.
The CFIB is pleading with the governments to preserve the survival of small enterprises and assist in lowering their operational costs, proposing several measures including:
Forgiving a minimum of 50% of the Canada Emergency Business Account (CEBA) loan;
Extending until December 2024 the repayment date for CEBA loans to be eligible for partial loan forgiveness;
Increasing the $500,000 small business deduction to $600,000;
Freezing upcoming federal tax increases, including as those that are scheduled to take effect in 2022 for the CPP, EI, carbon, and alcohol industries, and lowering the burden of provincial payroll taxes; and
Implementation of the promised reduction in credit card processing costs for small businesses
"Small firms are in for a rough recovery, but governments can step in and help by taking concrete measures," Kelly added. "Governments need to decide whether they will make the problem worse by raising taxes or take immediate actions to keep many businesses from disappearing for good."