Alix Quashie hopes to help other immigrants transition to their sweet spots, too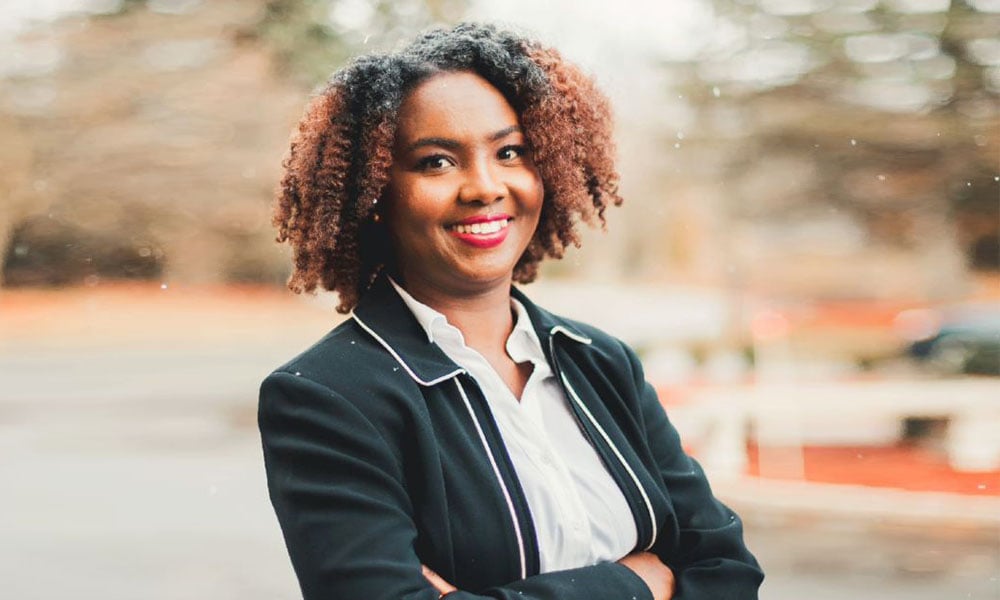 Now that the Women in Capital Markets' (WCM) Return to Bay Street program has boosted financial specialist Alix Quashie from Ghana to Bay Street, she's savouring her new career in her sweet spot and hoping to help others make their transition, too.
"I personally believe that I'm at the right place at the right time as sustainability and ESG takes the front row seat for the majority of organizations," Quashie, Mackenzie Investments' new Director of Sustainability and Strategic Planning, told WP.
"The opportunity to work in sustainability is not only reminiscent of who I am and what I stand for, but it stems from activities that I engaged in from a young age into adulthood," she said, noting she led tree planting in secondary school, walked to raise funds for underfunded kids to attend to school, and was part of her Ghana bank's team to educate youth about HIV and AIDS prevention. "So, I'm extremely thrilled that Mackenzie recognized the sustainability efforts that I've made in the past and gave me the opportunity to engage in areas of sustainability with it."
Quashie emigrated to Canada in mid-2020 and joined Mackenzie after applying twice for the Return to Bay Street program. WCM's industry-wide collaboration helps experienced women return to careers in capital markets. It placed 19 women this year and a total of 92 since 2010.
Quashie had 15 years of experience in investment and corporate banking, most recently with the Standard Chartered Bank in Accra, and was briefly an independent consultant with World Bank funded projects tackling climate change in Ghana before she came to Canada. She chose this country because she'd visited family here and loved to experience new cultures, but she knew it would be a challenge to relocate.
"I knew it wasn't going to be an easy transition into the Canadian workplace, especially as I emigrated amid an ongoing pandemic," she said. "Top of my mind was how would I build a crucial professional network to help me settle personally and professionally."
She leaned on professional finance friends who arrived before she did and told her about WCM's program. TD Bank interviewed her for it while she was still in Ghana, but she decided to reapply when she didn't place the first time. Once she arrived, she took the Rotman School of Management's Initiative for Women in Business program, which usually helps women who've taken time off to raise families, but allowed her to add Canadian experience to her resume while establishing a professional network here. She also appreciated receiving a senior women mentor from TD's mentoring program, who coached her for her second WCM application. When she reapplied, Mackenzie and TD Wealth invited her to interview.
Quashie is enjoying her six-month Mackenzie contract and working with her boss, Fate Saghir, Mackenzie's Head of Sustainable Investing, and her team to make sustainable investment "an everyday reality for our Mackenzie investments".
"We're doing this to build a culture of sustainability into our company and integrate responsible practices in online investment strategies and offer an innovative line up of sustainable investment solutions," she said. "So, my mandate is to lead some of these sustainability initiatives that are either new or require a reboot."
But, Quashie's mindful of those who helped her and those who still need help, and is already talking to other Ghanian professionals who want to emigrate to Canada and are asking the same questions she did. The Return to Bay Street program has also created some visibility. "I've had a few people reach out just to chat with me about my journey," she said, nothing she hopes to support others in the programs that have benefitted her.
Meanwhile, she's enjoying Mackenzie's educational programs and using the Return to Bay Street program's educational grant to pay for her Canadian securities course. She's also reticent to talk about what comes after this opportunity when it has just started.
"I'm in a very good place," she said, "and I'm thrilled for the opportunity to make an impact as much as I can."