'Building relationships opens the door to where you can build trust by being authentic'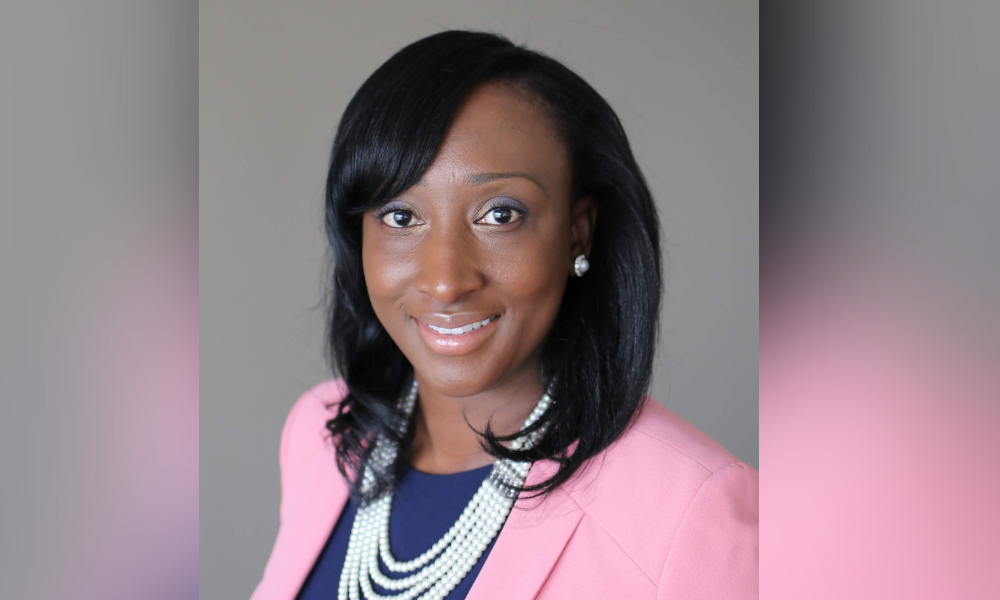 The pandemic proved to be a very fruitful time for this rising star financial advisor, who is growing her presence in the local Black, Indigenous, and visible minority community in southern Ontario, so she not only can help them but also achieve her goal of making them a significant part of her book.
"Part of my business strategy is to make clients from the BIPOC community 30% of my book of business, and that began about two years ago when I just started educating them," Sadeki Simpson, an Edward Jones financial advisor in Brantford, Ontario, who just won WP's Nour Private Wealth Award for Rising Star Advisors of the Year, told Wealth Professional.
"I'm a big educator. I believe in education 100%, and I do a lot of things to educate my clients," she said, noting that ranges from writing articles for the local newspaper to informing clients about their options. But, a big push during the pandemic was also providing webinars and seminars, especially for women in her target minority groups. "It's about empowering and educating people within the minority community, not just financially, but emotionally and mentally in different areas of life.
"I'm very strategic and intentional in educating those communities because I think they're behind financially because of a lack of education," she said, noting that she's a minority woman who grew up with a single mom, so sees families and entrepreneurs struggle financially.
"I see and hear the pain, and Edward Jones is an amazing organization that supports diversity and inclusion, so the support is there and it's something that's close to my heart. I'm from the community, so I know firsthand the struggle for business owners within the community, the lack of resources and access to capital, and lack of having good financial planning in place. So, when COVID happened, that just brought it to the forefront."
Simpson was concerned about long-time businesses, particularly in the Black community, closing because of a lack of financial planning. She listened to business owners as she went about her daily business with her family, knowing that she had to listen to their concerns before she could begin to provide solutions, so she'd take time to ensure she truly hear them.
"We talk about what means the most to them, what their concerns are, and what's going on in their family, as well as mine. They want to get to know me, and you build relationships on that. That's the open door into those spaces where you can build trust by being authentic and really getting to know them and what means the most to them," she said, noting that allowed her to add value with her education, and then begin to work with them to put good plans in place.
"That's my strategy. It may not work for everyone, but I'm not in a rush. I'm not forceful. You have to build trust within this community to have a healthy, collaborative relationship. It's for the long haul. I don't want to just be your advisor to manage your finances. I want to partner with you, and not just you, but your family and your children, so it's a lifelong journey.
"So, I think a key strength for me is my community involvement and my educating of the community – where I am and where I serve."
Simpson, who moved from Mississauga to Brantford and started door-knocking to build her business before the pandemic began, liked having those personal conversations. But, she'd worked in technology before, so was comfortable pivoting to virtual meetings and webinars during the COVID lockdowns. She's glad to be meeting in person again, and now has more than 300 clients.
What she's noticed, though, is the large number of women and minorities now getting into business.
"COVID has birthed more entrepreneurs than any other time I've seen," said Simpson. "I also see more people owning their financial future, and people now want to have a conversation with an advisor to talk about retirement and their goals. They want to have a plan in place and get all of their documents in place. They're open to a professional giving them a good structure, financial advice, and counsel on how to manage their finance and how to grow their wealth."
Her advice for other advisors is to understand their purpose, stay true to themselves, and get to know their clients.
"Don't look at the money. Look at the client and the people you want to serve and the impact you want to make. Have a vision because you will face obstacles," she said. "When you understand the why and the impact that you're making, that will allow you to move forward and overcome those days when you feel like saying, 'why am I doing this?'
"I think it's an amazing time to be an advisor. People need us. The pandemic has proven that. Everyone needs a good financial advisor, whether they're wealthy or not, because people who have an advisor do better financially than people who don't."
In the meantime, she said: "I'm humbled to receive the award. It meant a lot to me. It's a sign to continue to stay on purpose and serve with excellence, putting my clients first. It recognizes my hard work and my dedication to my clients. When I look at the award in my office now, I see dedication, I see excellence, and it says excellence pays in the end."