'The community knows who's in the community just for business and who's in it because they care'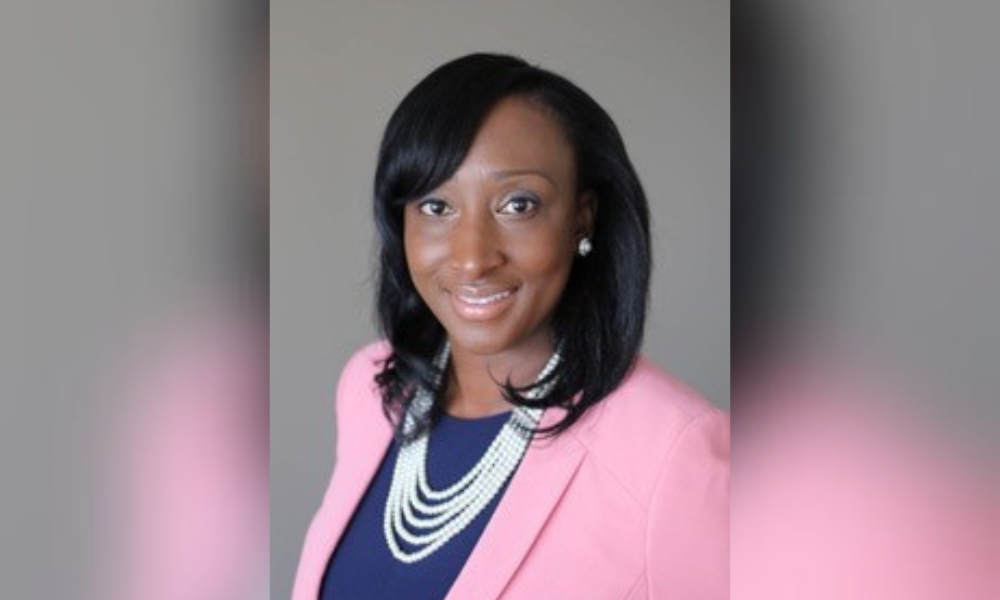 Almost a year after winning WP's Nour Private Wealth Award for Rising Star Advisor of the Year, Sadeki Simpson is watching her business grow as she builds more bridges in her small southwestern Ontario community.
"I've seen my business grow over the past year," Sadeki Simpson, an Edward Jones financial advisor in Brantford, Ontario, said. "It's interesting because, when you read the community, they know who's in the community just for business and they know who's in it because they care. "Now, when I go places, people know me – and my referrals have increased. But it comes back to trust, having a solid brand, and being consistent. That gives them confidence. That makes me excited – and it makes me know that I'm on the right track. I look forward to what the future holds."
Simpson, who grew up in the much-larger city of Mississauga, Ontario, moved to Branford about six years ago. Half of her tenure was impacted by COVID and the various pandemic lockdowns, but she kept reaching out to people since she wanted to get to know them and start to meet their needs.
"I'm an educator, so making sure for me really means being more strategic and intentional. I like to say I deliver on the three Cs – consistency, clarity, and building confidence in my clients," she said.
She's been very intentional about her outreach to the business community, and she said it's become more open to her since the pandemic. She said: "We, at Edward Jones, believe in delivering a one-to-one personally tailored solution. We can sit down with small business owners and have a conversation with them, and discover what means the most to them – what their business needs are and how we can help them.
"So, I've found myself encouraging them to work with an advisor because I think it's paramount to them, especially during this economic time, to work with a professional who knows what they're doing and can give them solution-based options, not so much product-based, but needs-based."
While the businesses are realizing she can help them better prepare for the future, Simpson's also been building bridges by joining community groups, such as the Kiwanis and Rotary. There she can pursue her passion for causes related to children, youth, education, and financial literacy.
Serving the community
Now, when she goes to community events, she sees her clients there, which deepens the trust and bond between them because they can see that she's involved in the community. Part of her business strategy is to make clients from the BIPOC community 30% of her book of business and she's also learning what the community's different needs are and what means the most to clients.
"It's one thing to do business in the community, but it takes it to the next level to serve the community," said Simpson. "Having a servant heart, it's is very important for me to serve within my community. I'm more embedded now in my community with more causes that are close to my heart and my clients, so now they know that I care."
Working with Edward Jones has also proven to be the right fit for her as she tries to financially serve the surrounding geographic area and the minority and underserved communities within it. "It's important for them to be aware of our brand and who we are, and the fact that we have 100 years of consistency and trust, delivering transparency to our clients and partnering with them to meet their goals," she said. "That's more pivotal now in this economic climate that we're in because they're aware of who we are and what we do, and how we help families."
It's also not unusual for Simpson, who does not require people to meet an investment threshold before she works with them, to sit down with people who may, or may not, become her clients because they've called, wanting some help because she doesn't believe in turning anyone away.
"I take the time to sit down with them – whether that's the community, the businesses, or the underserved community – and give them some form of guidance and clarity about how they can better navigate in this time because I really care," she said.
"I think there's a great opportunity for advisors to serve these communities because they're really seeking guidance. They're going online and looking for financial advisors to answer their questions because they're so confused. So, if I can give them some clarity, whether that's managing their debt during this time or calculating the right amount of emergency funds they may need, or looking at how they can meet a specific life goal by putting a plan in place, then that's my job: to provide that information and a form of clarity."
She credits Edward Jones, which she was very intentional about partnering with, for giving her the tools, flexibility, and mentorship to do what she sees needs to be done.
"It's part of who we are," said Simpson. "We've been doing this – serving the community and making an impact in it – since before I was born. So, when I say this organization is really aligned with my values, it's true, and I'm excited to build a strong brand within Brantford and serve this community."