Amid potential recession, advisors and firms can help clients make smart decisions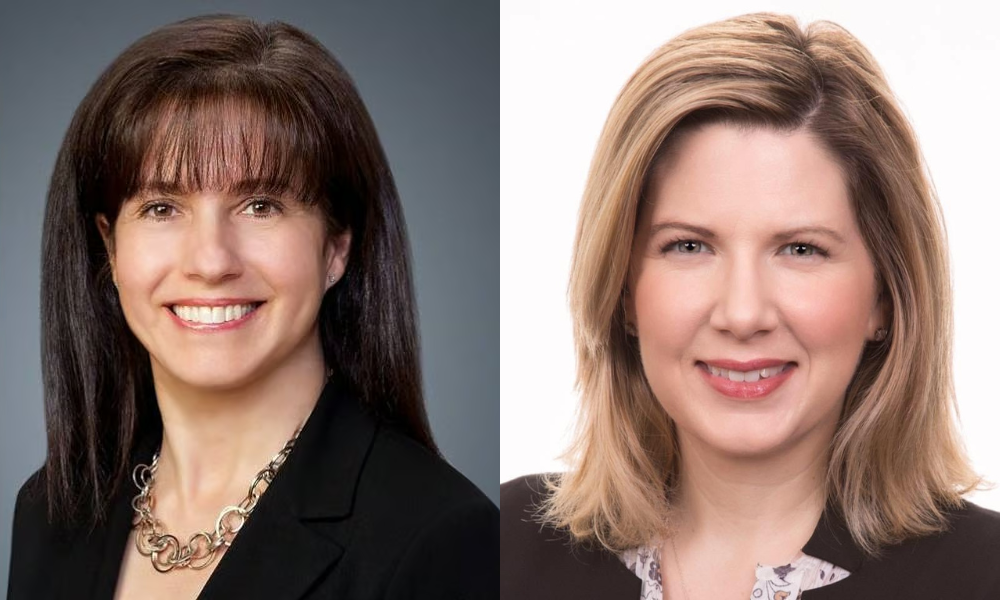 After a year of seemingly relentless interest rate hikes, investors consumers got a reprieve when the Bank of Canada decided to put a pause on interest rate increases in January. But with the lingering prospects of recession – at last count, RBC hasn't yet set aside its call for a mild mid-2023 economic downturn – clients are still looking for much-needed reassurance.
"A lot of people are worried about recession. They hear the word a lot," says Johanne Plamondon, certified financial planner and financial advisor at Delphi Private Wealth of Raymond James Ltd (pictured above, left). "But what does that really mean to the client? How is that going to impact them specifically? And that's a conversation we must have."
Aside from exposing latent vulnerabilities in the economy, a recession can also surface problems with personal or household finances.
"In the midst of a recession, issues that were previously unknown or weren't acknowledged, start to emerge," says Erin Roy, principal, branch team market optimization at Edward Jones Canada (above, right).
According to Plamondon, the impact of a recession may hit different between members of different age groups. "If you're somebody who's from a younger demographic, and you're still very focused on working and job security, the risk of getting laid off could be a concern. But for a higher-net-worth individual who may be retired, recession may present some opportunities."
For the multitude of clients who are concerned about being hurt by recession, Plamondon says it's crucial to take a financial inventory. A good exercise is to look at their different accounts and financial statements, then build a picture of their current situation.
"Sometimes it's tough, but if there's any anxiety or any concern around financial systems at this point in time, I encourage people to just take a snapshot of where they are currently, rather than burying their head in the sand," she says.
When it comes to helping clients deal with recession fears, Roy says it's important to focus on what's in their control with a personalized strategy to help meet their financial goals, which would enable them to keep their eye on the ball. Once they know their objectives, they'll be in a better mental position to look at their different options.
"Our financial advisors help provide clarity for our clients on the financial landscape and all the investment options," she says. "They're also able to empower the client to weigh up trade-offs between short-term and long-term financial objectives."
Because Edward Jones doesn't exert pressure to sell specific products, Roy says its advisors are able to prioritize building relationships and deepening their understanding of their clients' needs. By providing real-time market updates and insight, the firm also arms its advisors to educate and provide guidance to clients.
"We also encourage a culture where our financial advisors feel comfortable seeking advice from our wide network of other supportive advisors and branch office administrators. We look out for one another's best interests," she says. "It's invaluable to be among a circle of supportive advisors who've been there and will tell you their story, and how to handle different circumstances."
Aside from a network of peers, Edward Jones provides advisors with in-depth support from professional lawyers, accountants and expert planners. Those specialists can bring invaluable insight to unique situations that can arise in the midst of turmoil and uncertainty.
"If someone's in the middle of a significant transaction, and there's a major market event, we can look at how they can best handle it," Roy says. "Should they delay things, or push through? How do we support the client to make the right decision at the right time?"
While having autonomy and professional support systems can make the difference between good and great advice, it's still one advisor looking out for their client at the end of the day. And having that informed outside perspective is invaluable to steer clients in the right direction.
"It's important to get the help of an advisor. We can help itemize and objectively point out different concerns about people's financial situation, and help them set up specific goals," Plamondon says. "if we can set up specific goals, and then start to put money away accordingly, then that will help keep their focus in place."