Despite downturn, RF Capital Group says it's on schedule to reach $100 billion AUM target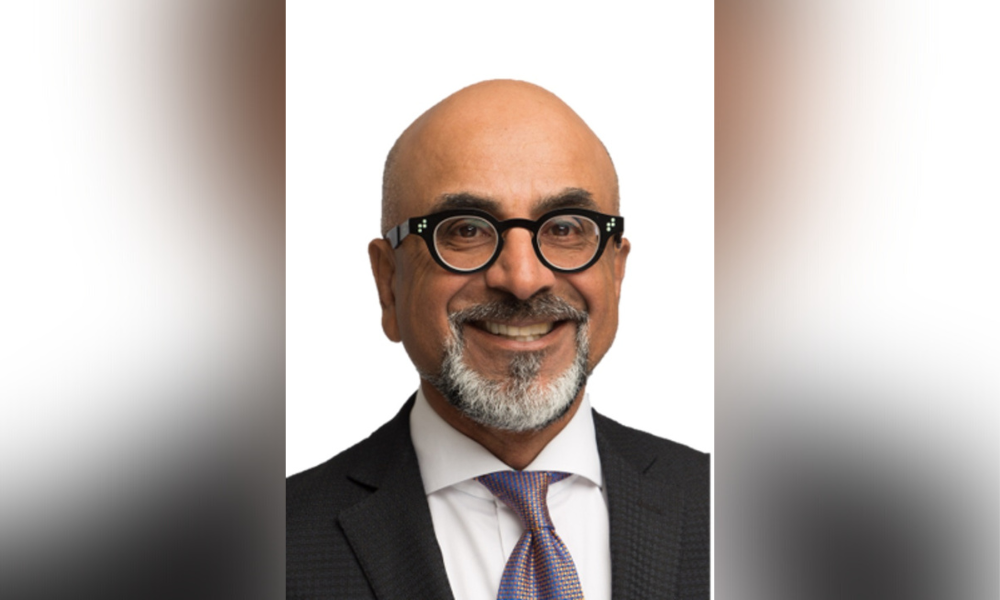 RF Capital Group is on target at the quarter-mark of its five-year plan, even though market returns haven't been kind in helping them meet their ambitious projections.
"Everything that we can control is going on track. The things that we cannot control are clearly not on track, and that is the market volatility. It obviously has a profound impact, not only on our client portfolios, but also our business," Kish Kapoor, RF Capital Group's president and CEO, told Wealth Professional.
"But, every other front, everything that we laid out in our strategy to get to $100 billion [AUM] by the end of 2025, which we presented to our shareholders in May of 2021, is on track."
This past spring, RF's assets under management had climbed to $37 billion from $30 billion when it started the strategy in May 2021, but the market had peeled that back to $35.2 billion by the end of July. Kapoor is pleased that the trend is still steadily upward, but noted that "our portfolios are generally more conservative, so we didn't get the full brunt of the downturn" and it also tends to make more interest income in a down market with these rising interest rates.
Read more: How RF Capital Group plans to triple its assets
RF's strategic growth plan has three pillars – to double down on its investment in its advisory teams to drive organic growth, supercharge recruiting, and use the results of that combination to acquire, or partner with, like-minded firms for scale or enhanced capabilities.
A big part of advisor support was investing in technology, and Kapoor said RF completed that investment launch in the spring of 2022. It's now training and transitioning its advisors so they can grow their practices. RF even launched a masterclass to help – even though 94% of its advisors had their best year ever in 2021. RF now is moving its back office onto Fidelity's platform on January 1, 2023, so it can provide continuous innovation and development for its digital platform. So, Kapoor expects RF to recruit more advisors and firms once that's completed and before the end of 2023.
RF also launched its insurance business, Richardson Wealth Insurance, in 2021, to enhance the service that advisors could provide. It had record business in the second quarter of 2022.
"We're executing our first pillar exceptionally well, and the one thing that we cannot control is the impact of the market. But, given that we're so fee-based, 86% of our revenues are fee-based, we've been able to endure the volatility of the markets and our advisors are actually not doing too poorly in this market," said Kapoor.
RF's strategic plan also called for 20% of its growth to come from recruiting, and it's now invested in a full-time corporate redevelopment team to do that. It's attracted 14 teams, so RF now has 165 advisor teams. It has 89 other teams in its pipeline, despite people's reluctance to move in a down market. Some teams are also waiting until next year, when the Fidelity transition is completed.
"If we can get 10% or 15% of our pipeline each year, we'll achieve our goals," said Kapoor.
Finally, RF planned to achieve 60% of its growth to $100 billion through acquisition, but he said RF won't do that until late 2023 or early to mid-2024, so it can first queue everything up for its advisors.
"I'm very pleased with the progress," said Kapoor. "The markets are the markets, although I try to encourage our people that when money is in motion, we should become even more aggressive in talking to our acquisition targets and certainly our prospecting targets."
RF Capital Group is also expanding its national presence. It's opening a new office for its downtown Toronto flagship in November. It's invested $20 million into it, so will have the latest technology and environmentally responsible engineering.
It also has new offices in Charlottetown, Edmonton, and Vancouver, and just opened a new office in Comox, B.C. In southern Ontario, it has consolidated its Burlington and Oakville offices, and is opening a new office in downtown Kitchener-Waterloo in the spring of 2023 to triple its size.
Read more: RF shores up its communications and marketing support
"There is definitely a renaissance in the industry where all the independents are doing exceptionally well and are returning to the market with some degree of confidence," said Kapoor. "There's enough share for all of us.
"That's something that people always seem not to notice is that the entire industry is thriving. Technology has enabled people to provide an extraordinary service to Canadians who are getting closer to the age of retirement. So, the demand for face-to-face advice in Canada is growing, not diminishing. And, in this market, it is even more clear that humans want to talk to humans, especially humans with really good know-how in tax and estate planning as well as portfolio construction. So, we, and a lot of our competitors, are providing that service, and we're seeing the entire ecosystem benefit from that."
Coupling that with the Richardson name recognition from 165 years of service, and all the technology upgrades, has put RF Capital Group firmly on track.
"We've got all the ingredients for this puzzle to succeed," said Kapoor. "The market is the only thing that I can't control, but everything else that we think we can influence or control, we're doing."