Advisor remembers helping his parents put funds to work as a precocious child, falling in love with the industry and starting his own practice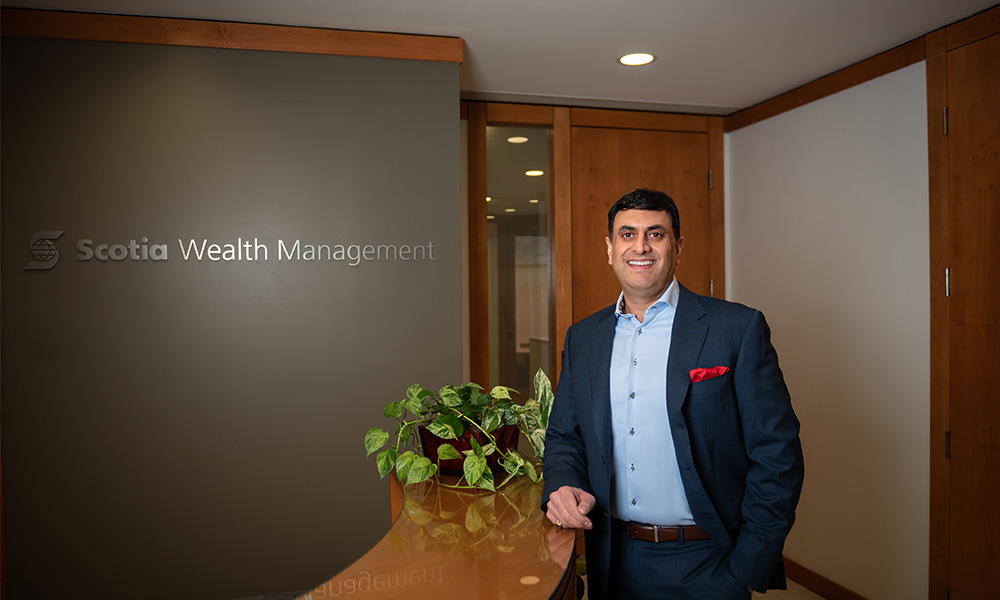 When Satvir Gill was 10 years old, having translated for his Indian parents since he was in Kindergarten, he was asking about investing and buying stocks during bank visits. At 12, he was helping his hard-working mom and dad put their funds to work. Shaped by the values of his family, this precocious child found that his interest in investing could be used to help others grow their wealth. From a small town in Northern B.C, the seeds of a long career were sown.
Decades later, Gill is Portfolio Manager and Director, Wealth Management at The Gill Group, ScotiaMcLeod, and has 135-140 households on his book. He said: "It really hit me when I couldn't get help for my parents. They didn't have much but I saw there was an opportunity to help people actually manage their funds because everyone's working so hard, yet we couldn't get answers on what to do. That started it, and it was at a really young age."
Gill then took this passion into his studies at Simon Fraser University, before picking up the phone and calling brokerages, searching for a foot in the door. At 19, someone gave him a shot, and he instantly fell in love with the industry. In 1999, he, along with another advisor, took the brave decision to start their own practice. By that time, Satvir was well known in the community for his work as a volunteer and advocate for others. His experience at a bank dealer provided him the marketplace connections to succeed as an entrepreneur.
"Working with the bank helped in building my profile and also with helping their clients – and that led to a lot of referrals," he said. "That was a big part of how I started the business. I've never really advertised, it's all been referral based from existing clients or COIs [Centers of Influence] or other people within the financial industry.
"Even today, the majority of the new clients are referrals from existing clients or they've heard about us from somebody. I may start, but we're not doing advertising [right now]; it's just a case of picking up the phone and making those relationships."
Gill and his team have more than doubled their assets in the past five years by focusing on their strengths - generational wealth, planning, and goal-based investing. Everything the practice does is purpose-based, he said, adding that he "hates randomness". It's an approach that resonates with clients and gives the practice a clear mandate beyond being just pure active managers.
He said: "We do everything. We're the one-stop shop for clients and high-net-worth families and organizations. Being able to provide counsel on managing wealth and how to transfer it to future generations is an honour, and it's something we take very seriously. It really drives us.
"That's what got me into the business and keeps me in the business; being able to have those conversations with clients where we are talking about broader concepts, generational wealth transfer, and being able to facilitate those with families and organizations. Then you see the results of it at the end and it's very fulfilling."
When Gill began his career, being an advisor was all about trading. He remains an active manager but recognizes that the role now goes far beyond that. He told WP that the transition to a more holistic approach was easy, borne out of years of community work and sitting on various boards. Helping people as a profession makes things a lot easier, he added.
Not even COVID-19 could throw the team off its mission. In fact, Gill said the recent health crisis has actually solidified all the goal-based planning that goes into managing a client's account.
He said: "This is why we take these steps … to prepare for days like these and also to look ahead five, 10, 15, 20 years. Having a broad view of what we're doing for the client makes it a lot easier. There's no panic, you know exactly what's going on [with each client] and why we're doing it. COVID-19 actually solidified the offering quite a bit and also opened up different conversations [about planning] with clients too."
Gill's ambitions are focused on maintaining his "quality over quantity" mantra. The practice onboards only about one or two new clients a month, a conscious choice that allows them to do justice to all the families they work with, which currently stands at about 135 households.
The portfolio manager praised the team he has assembled around him, which he compares to a family, and the wealth of resources he has access to via Scotia. The beauty of the industry, he added, is that everybody can do it differently.
"There are asset managers who want to have the biggest book possible and run a discretionary model. Nothing wrong with that; it's fabulous. Other don't want to run investments or assets themselves, they outsource it all to third party managers; nothing wrong with that at all.
"We do both. We are portfolio managers, so we run our own models. We also use third parties but we still run our own models and, because it's goal-based, the portfolios are very centric to the client. Basically, we do a holistic approach."