Our ambition is to be the leading platform for independent advisors, COO tells WP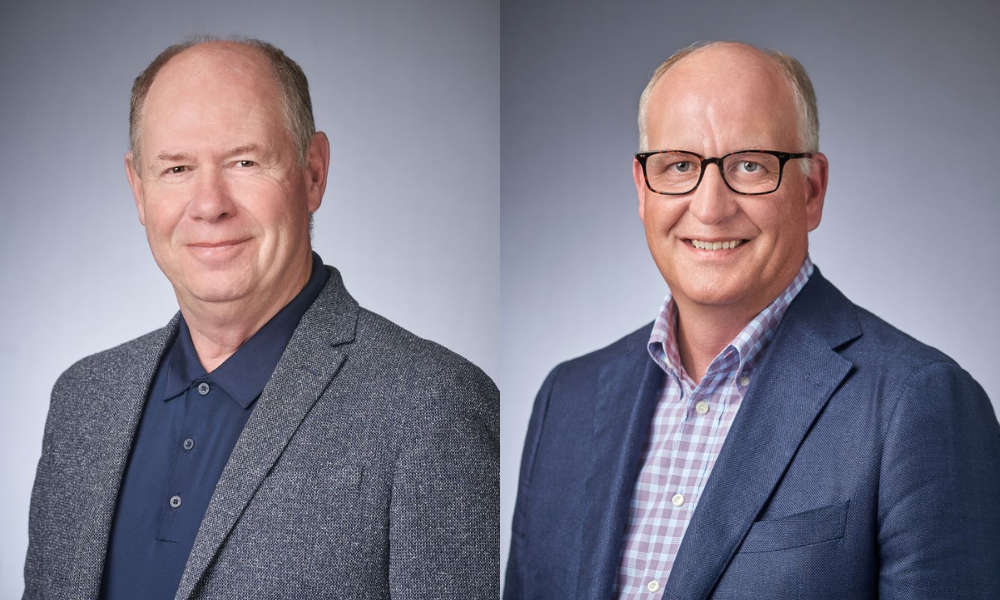 Canada Life's planned acquisition of Investment Planning Counsel (IPC) from IGM Financial sends a 'strong signal' to advisors and puts the firm on track to be the leading wealth platform in the country.
That's the view of Canada Life President and COO, Jeff Macoun (pictured above, left), who was speaking to Wealth Professional after it announced a deal that, once completed, will form one of Canada's largest non-bank wealth organizations.
IPC's business, which includes 650 advisors, represents $31 billion in assets under administration. Together with Canada Life's book, it will form a titanic wealth platform with $85 billion in AUA with over 4,000 advisor relationships.
"We're really excited," says Macoun. "We see this acquisition aligning with our vision, which is to be the leading platform for independent advisors in Canada."
Hugh Moncrieff, EVP Advisory Network and Industry Affairs, adds that the early response from advisors across both the Canada Life and IPC networks has been very positive.
"Advisors are looking for the ability to serve clients differently. They see the vision, they see the future. And they understand why this makes sense," says Moncrieff (above, right). "We see clients' needs evolving from smaller accounts, right through to high-net-worth. So when we look at delivering more of an integrated experience, we think that IPC fits the bill."
As Macoun notes, Canada Life currently has industry-leading positions in the workplace plan, life insurance, and segregated fund spaces, all backed by a "robust and significant distribution organization" headed by Moncrieff. For the better part of two years, the firm has had its eye on IPC to round out its solution set, especially given the limited number of acquisition targets that aren't either bank-owned or owned by other lifecos.
"What this brings to the table is a full spectrum of wealth solutions," Moncrieff says. "With our scale, we have the ability to not only build on those solutions for clients, but also attract new investment managers and create new solutions for clients."
Today, Canada Life is able to address most Canadians' needs through its catalog of seg funds and mutual funds. IPC will add considerable strength to the firm's already-formidable presence on the MFDA platform, which currently includes close to 2,700 advisors licensed through Quadrus Investments.
As clients' needs grow more sophisticated and advisors seek to move upmarket, the IPC brand also brings immediate credibility to the high-net-worth market on the IIROC side. A big piece of that comes from the securities, discretionary portfolio management, and a fee-based offering facilitated via the IPC One integrated digital platform.
"Particularly in light of some of the regulatory changes that we're seeing with the new SRO, we think the winning wealth management platform will be technology-led," Moncrieff says. In announcing the acquisition, Canada Life said it will continue running its business and IPC's as separate operations, though the ultimate goal is to create a unified platform for advisors and clients.
The synergies don't stop there. With IPC's capabilities in wealth management, practice management, and succession planning, advisors at Canada Life can benefit from a better experience growing and future-proofing their practices. Canada Life also expects its deep expertise in life insurance-based estate planning will make a real difference for some IPC advisors who might not have as much experience with that.
The acquisition also represents a new chapter of growth for IPC President and CEO Blaine Shewchuk and its founder, Chris Reynolds, who will both continue to play an extremely prominent role in the organization. In the statement announcing the deal, Shewchuk highlighted how having increased access to capital would "support [IPC's] ability to attract new advisors, provide innovative portfolio solutions, and continue to invest in helping advisors better serve their clients."
IGM Financial is pursuing its own grand ambitions. Also on Monday afternoon, it revealed it had acquired a 20.5% equity stake in Rockefeller Capital Management. Aside from making it the U.S. independent financial services firm's second-largest shareholder, the US$622-million deal expands IGM's high-net-worth and ultra-high-net-worth presence south of the border.
"We believe that independent advisors in the wealth space will be increasingly attracted to our platform as the place to start their practice, and move through the life cycle of planning with their clients as well," Macoun says.
"This is a very strong signal to thousands of advisors in Canada, both our current partners and those we haven't partnered with yet, that we are committed to enhancing our wealth offering," Moncrieff says. "It's about building something that can make a difference for advisors and critically, make a difference for Canadians."