A pair of veteran advisors -- finalists for the Wealth Professional Awards -- have chalked up win after win with a method others are only now adopting.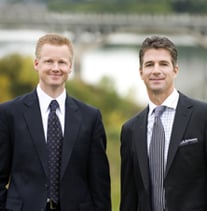 Far from Bay Street two veteran advisors
and finalists for the Wealth Professional Awards brought to you by Invesco
are blazing their own path to success using some tried and true methods and in the process generating lots of revenue for their firm.
"Early on in our careers we spent a fair amount of effort on marketing," says Saskatoon-based advisor
Kevin Hegedus
. "One of the things we implemented 16 or 17 years ago now was the weekly radio show. Since then, probably in the last three or four years, we've been getting some really good referrals."
Still, another decision made years ago has had even greater an impact.
An increased flow of leads came on the heels of a decision made by Hegedus and his business partner of almost eight years,
Kevin Haakensen,
to transition their practice to a discretionary portfolio management model.
"We've always been slightly ahead of the trend. We just got back from a conference where a majority of the successful people at Hollis Wealth have either moved to discretionary portfolio management or are thinking of it," says Haakensen, the other "Kevin" at Prairie Wealth Management. "We started that process years ago because we saw value in it."
A good chunk of their clients, perhaps as much as 65 per cent, are farmers or ranchers who are either retired or close to it. Hegedus points out that every couple of months a client will walk in with a million-dollar cheque (or more) from the sale of the land. When that happens it's time to go to work.
The discretionary business model they adopted several years ago has not only served those clients well but kept the business interesting.
"One of the biggest changes was 12 months into our discretionary model," says Hegedus. "It made the business a whole lot more fun to do.
"It elevated our business. It provided us with the tools to protect clients from risk a lot better."
When asked about the victories, successes and/or highlights in their careers, both men are very proud of the business and team they've been able to develop.
"I'm pretty proud of the [financial] plans we're doing in-house. In the seven-plus years we've known each other I've seen the plans get better and better," says Haakensen. "Part of that is the shared philosophy of hiring the best talent. It's a massive part of what makes us successful and more focused on everything we do day to day."
Attribution:
The office of Kevin Hegedus and Kevin Haakensen, Portfolio Managers, Prairie Wealth Management, Scotia Capital Inc. HollisWealth is trade name and a division of Scotia Capital Inc., a member of the Canadian Investor Protection Fund and the Investment Industry Regulatory Organization of Canada. ™ Trademark of The Bank of Nova Scotia, used under license.