Doctors' digitization has been growing in the pandemic as clinics offer 'clicks and bricks' experiences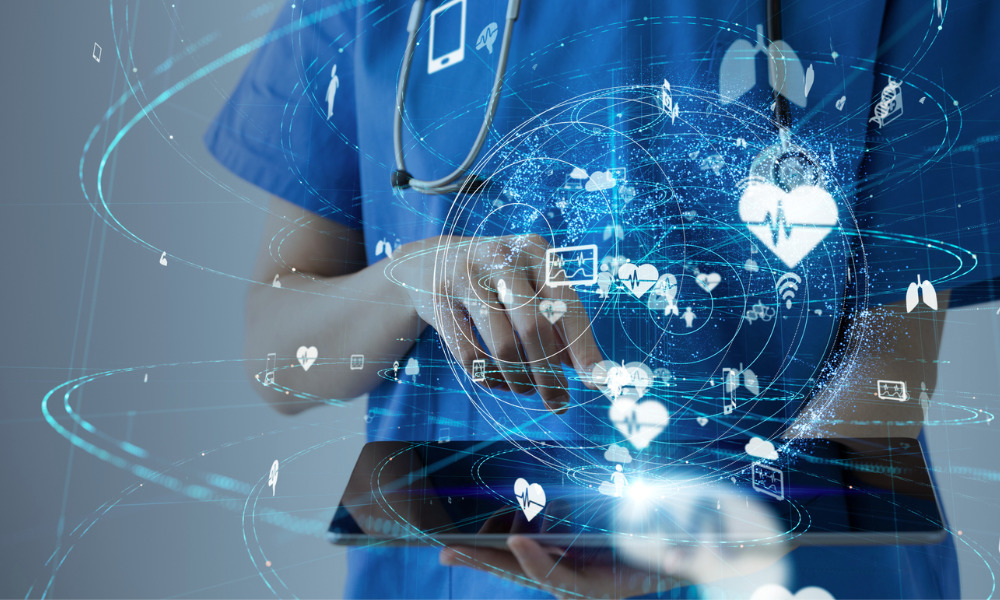 Advisors searching for new investment opportunities for their clients should check out medical-technology companies after progress in the field accelerated during the pandemic.
"I think the biggest change for the industry was just practitioner readiness and the way they felt about technology," Hamed Shahbazi, CEO and Chairman of the Vancouver-based WELL Health Technologies, told WP.
Pre-pandemic, he said, Canadian physicians' digitization lagged behind other businesses and other countries' health care sector because doctors didn't want to use billing time to learn new technologies and workflows that could enhance their productivity, even if it improved their output or ability to deliver better patient outcomes.
"What happened with the pandemic is that there was a multi-year acceleration in digital health," Shahbazi said, "not because digital health innovation suddenly got so incredibly good. Sure, it improved a little, but a lot of this technology was there and just not used. What happened is practitioners really started to embrace it because they had to. It opened a lot of people's minds, and they began to embrace digital, not just telehealth, but also remote data capture, digital patient engagement, and waiting room automation."
WELL Health Technologies is a capital markets company that's almost four years old, but has grown by buying other companies. It has 74 clinics in Ontario, British Columbia, and Quebec, and is currently the largest owner-operator in both B.C. and Ontario. Its clinics offer both on and offline services that range from primary to specialized care and diagnostics.
"What's unique about us is that we don't just have patient services, we have all these platform technologies," said Shahbazi, noting WELL owns both the software and practice management tools that physicians use. "A good way to think about us is we have a digital practitioner enablement platform."
WELL has 2,000 practitioners and clinicians in its system and provides software platforms for them plus 15,000 other physicians. Its gone public to raise the stock money to make further acquisitions to create a national platform that can support the full patient's journey, which is a growing edge that advisors' clients might benefit from investing in. WELL's software allows physicians to weave together both the on and offline experience, ensuring workflows and information storage and retrieval are seamless. That not only allows them to share patient's files in a team environment, but also work with physiotherapists, counsellors, dietitians, and masseuses in a multi-disciplinary practice.
"We're quite fortunate, here in Canada, that we have the health care system that we do. The affordability is there, and the accessibility is okay, and it's getting better because of all these tools," said Shahbazi. "But, it's challenged with interoperability, so the patient journey is challenging right now."
He dreams of creating the connective tissue that allows even more integration between physicians and specialists, so companies can create "an end-to-end ecosystem, with diagnostics and testing, from primary to specialized care, and even all the way into acute care in hospitals. If we had the software workflow so the patient journey happened without gaps, that would save lives."
"I think physicians can do that if they can provide that end-to end experience in both on and offline channels," said Shahbazi "It takes a special company or group of companies to be able to deliver on this in a meaningful way."
In the meantime, Shahbazi said the growing number of millennial physicians have appreciated being able to adopt technology in their practice during the pandemic. Doctors have appreciated the new telehealth systems that have also allowed them to cut commute times by working at home. And, patients have also appreciated being able to renew prescriptions without commuting to a doctor's office and waiting hours for a three-minute renewal.
"That's one of the rare silver linings for this horrible pandemic. The healthcare business has experienced an improved adoption of technology," he said.
"While I think some technology use will abate after reopenings occur, what we've found is that many physicians now reimagine their business as not just a brick-and-mortar world, but an omni channel experience that is an integrated clicks and bricks experience."