More than a quarter have trouble sleeping because of financial stress, according to Scotiabank study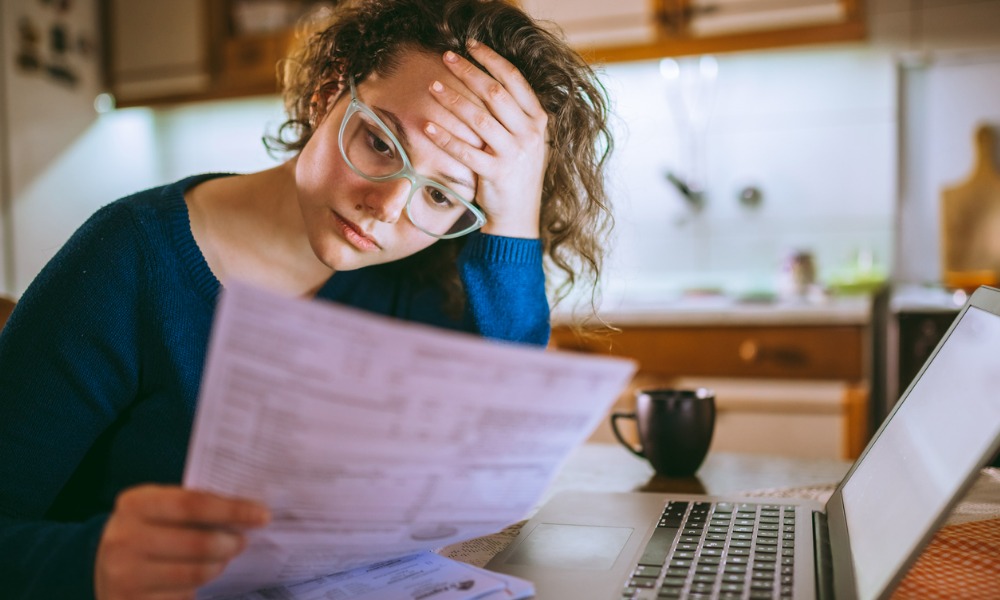 Canadians now worry about their money 15 hours a week on average, up from 10 hours during the same time period last year, according to a recent Scotiabank study. This translates to around 31 days each year, or about as much time as it would take to work a part-time job, for the average Canadian.
Scotiabank's fourth annual Concern Poll findings show Canadians who worry most about money spend the most time worrying about covering regular costs (44%), paying off debt (39%), and setting aside money for emergencies (38%). Since July 2021, there has been a noticeable increase in the average weekly hours that Canadians spend stressing about their finances.
In all, 26% of Canadians report having trouble sleeping due to financial stress. Boomers are substantially less worried about their finances than Gen Z, Millennials, and Gen Xers. Men and women experience financial stress differently (26% vs. 20% respectively). While Albertans are the most concerned (32%), Quebecers are the least likely to think that their financial condition gives them a lot of worry (17%).
The burden of soaring daily expenses on Canadians
"Canadians continue to feel the impact of higher prices on their wallets, and this is leading to more time spent worrying. For most Canadians, their income has not kept pace with the rising costs of what they buy, with groceries and gas continuing to be the biggest drivers of strain for households," said Kingsley Chak, Senior Vice President, Retail Deposits, Savings, and Investments at Scotiabank.
In this economic climate, most Canadians (72%) are searching for ways to stretch their budgets, and the majority are very concerned about the growing cost of living (73%). The number of jobs added to the market each month has helped to lower Canada's unemployment rate, but the country's citizens still don't see their wages improving at a rate that keeps up with inflation. In Canada, the cost of living is growing faster than income, according to roughly three quarters of people (71%).
Although one in five Canadians anticipate their financial status will worsen in the upcoming six months, and affordability is undoubtedly an issue for them. To afford the things they need, 57% of Canadians make minimal sacrifices on the things they want.
"With so much time spent worrying, Canadians can find peace of mind by speaking with a financial advisor who can help them achieve their financial goals. A simple conversation can alleviate worrisome questions about their financial future, and free up a substantial amount of time," Chak said.