Jump to winners | Jump to methodology | View PDF
THE INDUSTRY'S NEXT GENERATION
Young professionals working in the Canadian wealth management industry have been forced to navigate choppy waters at an early juncture in their careers. The COVID-19 pandemic sparked a market crash in March 2020, workforces went remote, and investors were left biting their nails and questioning their portfolio decisions.
However, the tumult allowed skilled advisors of all ages to rise to the occasion. For up-and-coming wealth professionals, it was a chance to prove they had the ability to thrive. Whether it was rebalancing portfolios, taking advantage of market dislocations, designing new products or talking panicked clients through their financial plan, young professionals across the country excelled.
To uncover the bright young stars who shone during a particularly testing year, WP cast its net far and wide. Whatever happens next in the careers of these 38 exceptional Rising Stars, it's clear recent events will stand them in good stead.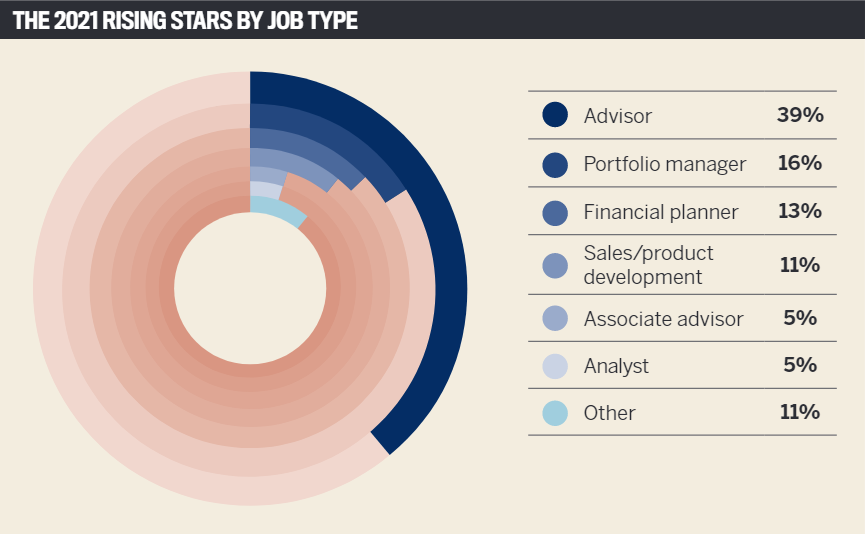 Relationships first
Hand-holding is a big part of an advisor's job. Of course, if a client's portfolio strategy and financial plan are sound, conversations are generally easier to have, but in the midst of a recession, being concerned about your future is a natural reaction for most people.
Josue Dubon understands this. A wealth mentor at DesignWealth in Victoria, BC, Dubon recognizes that humans are complex, and he strives to help his clients be better with their money by understanding what motivates their behaviour. "Most people fail not because they don't have the [financial] skills or they don't have the mindset," he says.
"Most people fail because they give up what they want most for what they want now. My main job is to help individuals not to forget what they want the most. Our approach is a little more on the human side than the financial aspect."
Even though he's only 26, Dubon often relies on his own upbringing to help clients through the tough times. His parents lived paycheque to paycheque, and money was a frequent stressor, but he doesn't regret not having more money. Instead, he wishes he'd had more quality time with his loved ones.
"Usually in the first meetings, we don't talk about numbers," he says. "We simply talk about you and do exercises, purposely bringing out what's important to you." Dubon then takes clients through a cash-flow process – what DesignWealth calls a wealth map – and from there, they build a strategy to get the client where they need to go.
That kind of approach is crucial in tumultuous times. Evan Neufeld, a financial planner with Enns & Baxter Wealth Management at Sterling Mutuals, puts extra emphasis on educating clients. The 31-year-old advisor is self-deprecating, describing his approach as "not flashy," but he makes no bones about believing in "boring" investment solutions as opposed to the latest trends.
"If the client understands what they're investing in and what their plan should be for making contributions or where their income's coming from, they're much more likely to stick to it," Neufeld explains. "And the compounding effect of poor decision-making is something that I try to help my clients avoid."
To assist with getting his message across, Neufeld started a podcast in 2020 and has racked up 25,000 downloads so far. But he says the key to amassing $57 million in AUM has been having honest conversations with people and leaving the sales pitch at the door. His next goal is to build a niche with pre-retirees over the age of 45.
"The Canadian financial system is complicated, and those types of [people] need good planning," he says. "Based on my model, I can have a profitable business serving those folks."
Building a practice
One of the themes of the past year has been the rise of several independent firms, as many advisors have found the entrepreneurial environment more conducive to growing their practice. Noah Djurfeldt, a 25-year-old investment advisor with the Rosedale Family Office at Wellington-Altus Private Wealth, is one of them. Djurfeldt began his career at a bank but quickly realized it wasn't where he saw his future. He admits that making such a monumental shift was "difficult and scary," but he had conviction in his decision.
"Being at the Wellington-Altus office was the best foundation I could give myself to really launch my career – and it's turned out that way," he says. "Most of the best successes that I've had in this business I would not have had if I wasn't at Wellington-Altus."
Djurfeldt and his team pride themselves on being able to offer a full range of financial services to clients, and a small client list allows them to maintain a high-touch approach. Good investments are now table stakes, Djurfeldt says; what differentiates advisors today is the service they provide.
"I've learned as a young advisor that I don't need to cater to everybody, and I don't need to be the right advisor for everybody; I just need to know what I'm good at and serve my market well," he says. "We want to be the name that everybody talks about when they talk about a family office."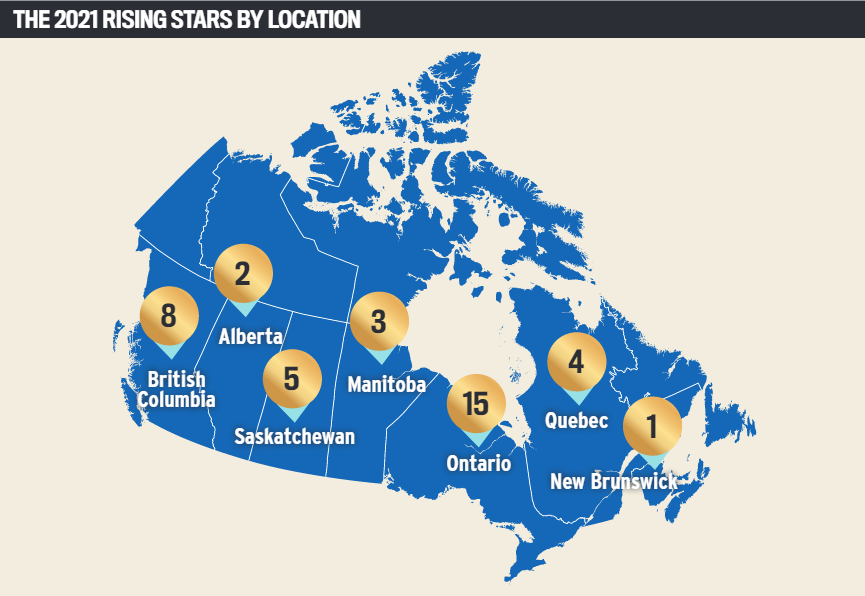 While some advisors are building a family office, others are building an office with their family. Casey Cullen is a wealth advisor at Bradford Wealth Partners at IPC Securities and owns 50% of the business; the other half is owned by his mother.
The duo have grown their team and acquired books of business along the way, but at one point, Cullen thought his career would look very different. When the opportunity arose to take an ownership stake in the practice, he was looking for opportunities elsewhere and admits he was apprehensive about working with his mother. But staying with the practice turned out to be the best decision he could have made.
"We've been able to maintain a really good working relationship that carries on beyond the office right back to a mother-son relationship," he says. "Everything's been smooth. We listen to each other, we disagree with each other, we work as a team, and we always get to where we need to be in an efficient way."
Cullen also wants his clients to have a smooth and simple experience. By outsourcing 99% of the money management, his team is able focus more on their clients' needs.
"We want to be a well-oiled machine where we're taking the complex issues for clients and simplifying them," Cullen says. "We're not trying to be everything for everyone."
Another way this year's Rising Stars have been building their practices is by making technology an integral part of their business. Marc Sabourin, portfolio manager at Winnipeg Financial Planning at Harbourfront Wealth Management, and his team focus heavily on producing content through their website, blog and social media channels.
"There are only so many ways to get in front of new people in this industry," he says. "Putting on seminars does work, but it's expensive, and you don't always know what you're going to get. Our online presence means we can be more targeted."
This steady approach is the epitome of one of Sabourin's favourite expressions: "Don't let go of the rope." In other words, if markets are whipsawing, stay level and don't stray from your objective.
It's a mantra that's working – Sabourin has grown his practice to $90 million in AUM and about 300 clients; his ultimate goal is to get to $1 billion. "It won't be me managing $1 billion – we'll see how many associates, vendors and partners we'll need," he clarifies. "But that's the long-term goal."
Aaron Cadrin


Advisor, Aaron Cadrin Investment and Insurance Solutions – Sun Life

Adrian Miller


Financial Advisor, Living Skies Advisory Group – Harbourfront Wealth Management

Alexander Norman


Investment Advisor, Oakwater Wealth Counsel – Harbourfront Wealth Management

Andrew Stadnicki
Life Insurance and Investment Representative, Desjardins Financial Security Independent Network
Aya Kadi
Associate Investment Advisor, 3Macs, a division of Raymond James
Brandt Butt


Portfolio Manager, Endeavour Wealth Management – iA Private Wealth

Casey Cullen


Owner/Wealth Advisor, Bradford Wealth Partners – IPC Securities

Chris Corsetti


General Counsel, Harbourfront Wealth Management

Cody Gordon
Portfolio Manager, Wealth Management Advisor, Versus Financial – National Bank Financial Wealth Management
Colin Sabourin


Financial Advisor, Winnipeg Financial Planning – Harbourfront Wealth Management

Emily Newman


EVP, Sales, Wealhouse Capital

Evan Neufeld


Financial Planner, Enns & Baxter Wealth Management – Sterling Mutuals

George Ripoll
Investment Advisor, BMO Nesbitt Burns
Ian Love


Investment Advisor, Rosedale Family Office – Wellington-Altus Private Wealth

Jason Nakhoul
Senior Investment Advisor, Branch Owner, Salus Wealth – Manulife Securities Inc.
Josh Sheluk


Portfolio Manager, Partner, White Leblanc Wealth Planners – iA Private Wealth

Josue Dubon


Wealth Mentor, DesignWealth

Justin Van Dyk


Portfolio Analyst, Harbourfront Wealth Management

Kate Murdoch


Investment Advisor and Financial Planner, Ridd & Associates Wealth Advisory Group – BMO Nesbitt Burns

Kristen Zubko
Financial Advisor, Edward Jones
Lauren Minogue


Vice-President, Connor, Clark & Lunn Private Capital

Lisa Carter


Financial Advisor, Portum Financial Services – Sun Life

Marc Sabourin


Portfolio Manager, Winnipeg Financial Planning – Harbourfront Wealth Management

Marcus Rogers


Product Manager, Four Eyes Financial

Nimar Bangash


AVP, Product Management and Development, AGF Investments

Noah Djurfeldt


Investment Advisor, Rosedale Family Office – Wellington-Altus Private Wealth

Paige Hilton
Investment Associate, The CM Group at CIBC Wood Gundy
Pascal Larivière


Financial Planner and Division Director, IG Wealth Management

Samuel Lichtman


Financial Planner, Achieve Wealth Management – Portfolio Strategies Corporation

Sarah Yoshida


Investment Analyst, Essential Equity Team,

Manulife Investment Management
To uncover the most promising young professionals in the Canadian wealth management industry, the Wealth Professional team undertook a rigorous marketing and survey process, leveraging WP's connections to thousands of advisors across the country. Starting in June, companies were given the opportunity to nominate professionals for consideration based on their performance and achievements over the past 12 months.
To be eligible, nominees had to be age 35 or younger (as of May 31, 2021) and be working in a role that relates to, interacts with or impacts the wealth management industry. When reviewing the nominations, WP concentrated on those who have committed to a career in the industry and clearly hold a passion for wealth management. In order to maintain a focus on new talent, only nominees who hadn't been previously recognized as a WP Rising Star (or Young Gun) were considered.
After reviewing all the nominations, the WP team whittled down the list to 38 deserving Rising Stars.