Jump to winners | Jump to methodology | View PDF
TAKING TECH TO THE NEXT LEVEL
Technology has become a critical component of advisors' day-to-day lives – but with so many tech options on the market, how can advisors be sure they're selecting a platform or product that will truly elevate their practice? To discover the tech pioneers who are truly shaping industry innovation, Wealth Professional reached out to readers across the country, asking them to name the vendors they rely on for financial planning tools, CRM, back-office support, portfolio management and digital marketing.

Financial planning software is obviously a key consideration for advisors – and convenience and ease of use are prime selling points. Those are two factors that are front and centre at Planworth, a Toronto-based B2B SaaS platform that caters to investment advisors and wealth professionals.

"Our technology and user interface make it easy for advisors to customize wealth plans, identify solutions, automatically update plans and pull live client data," says Planworth co-founder Tarsem Basraon. "We allow advisors to seamlessly move up and down the wealth complexity curve, including the ability to handle complex corporate structures."

The ability to simplify the bigger picture for clients is also critical. Pawel Brzeminski, founder and CEO of Snap Projections, says his company's software "[enables] an advisor to show clients their whole financial life on one page. Our Planning Page saves time, increases confidence in the assumptions and calculations, and boosts clients' ownership of their financial plan, making it easier for clients to implement and follow to their plan. As a result, satisfied clients refer their family and friends, which organically brings new business to the advisor."

To make their software even more useful to advisors, some tech providers have begun incorporating artificial intelligence. Mark Evans, president and CEO of Conquest Planning, highlights the benefits of his company's AI-powered Strategic Advice Manager (SAM).

"Not only does SAM enable users to navigate with ease, regardless of their technical skill set, but SAM also optimizes the ability to serve up the next best strategy to accomplish the client's goals," Evans says. "This human-centred, tech-enabled experience has dramatically increased adoption and allowed for more people to be well planned for their futures."

It's this human touch, Evans says, that enables wealthtech to help advisors deliver the kind of true engagement clients want. And, he adds, it can also provide perhaps the most human necessity of all: peace of mind.

"Everyone has fears around 'what ifs' in life," he says. "Never before could you model out in seconds the impact of those events to your short- and long-term financial picture – like 'what if the market crashes' or 'what if my partner passes too soon.' Our modelling functionality helps our clients sleep at night by addressing those 'what ifs.'"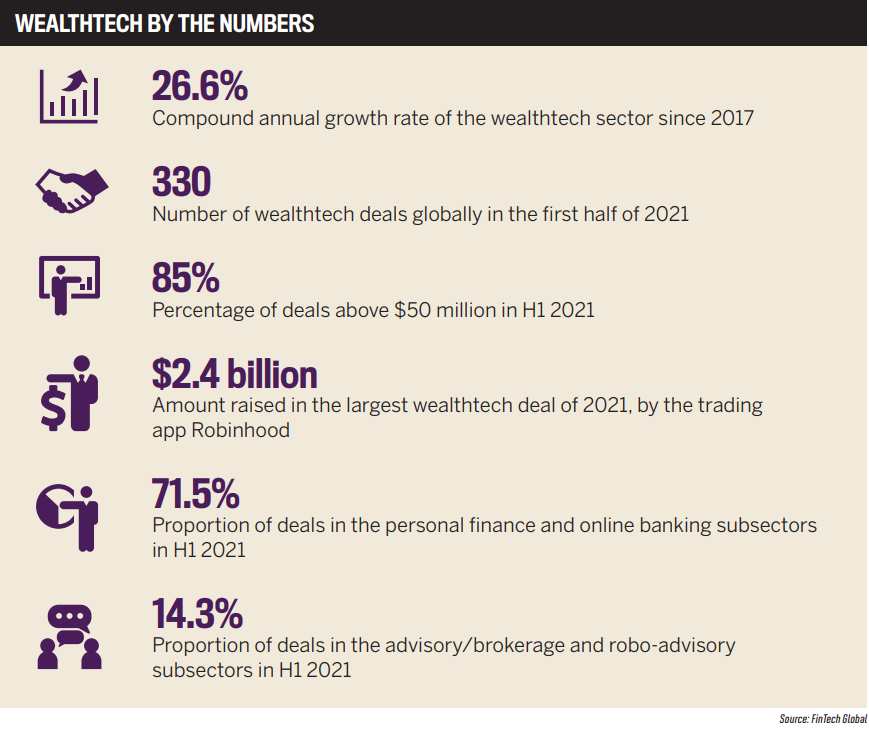 Listening to advisors
Peace of mind is equally important to advisors, who want to know that the administrative backbone of their practice is in safe hands while they're busy interacting with clients. An integral way that wealthtech can support this, according to Paul Petersen, vice-president and general manager of CRM provider GoldMine, is with "a focus on the individuals and their interactions and a focus on the user's productivity to remember the things they want to, but can't always."

Yet the task of honing such support can only be achieved through constant tweaks, based both on organizations' inner changes and feedback from clients.

At Conquest, Evans says, "we collect significant feedback from our customers and users, and continually hone the platform while incorporating that feedback. This approach has allowed us to dream big and remain diverse in our perspective in meeting the needs of the market. It's allowed us to take firms from dreaming to doing, and to gain a dominant foothold in the market incredibly quickly."

Planworth also puts a high priority on incorporating user feedback – especially over the course of the past year, when digital transformation has been in the spotlight like never before.

"User feedback drives success for Planworth," Basraon says. "We constantly engage with users for feedback on their experience with new and existing functionality to ensure development addresses what they are looking for. Planworth's culture has been so important over this difficult time. Our team has stayed engaged and focused throughout the pandemic, and their commitment allowed us to push innovation and development during this time."

The value of teamwork is also a defining factor for d1g1t, a Toronto-based digital wealth management platform. Co-founder and CEO Dan Rosen can't praise the work of his crew highly enough.

"In the end, I truly think it's all about the team," he says. "Our team has the unique ability to partner and work in close collaboration with our clients to understand their business and what sets them apart. From this, we built an advisor platform that scales up those high-value human services that advisors provide their clients and that separates them from their competition."

The company received high marks from advisors for its approach to portfolio management. As Rosen explains, this stems from the fact that "d1g1t is much more than just a reporting solution – d1g1t is a single platform to manage clients, portfolios and the entire business. It is used by every member of the firm. A crucial differentiator is given by our on-demand institutional-grade analytics and risk management tools, covering all asset classes, including PE and alternatives.

"Thus, the d1g1t advisor platform provides advisors with all the information they need at their fingertips, allowing them to take the conversations with their clients to a different level. The d1g1t white-labelled investor portal and mobile app further provide their clients with 24/7 access to their portfolios and plans. It's all about delivering full transparency, elevating the client's experience and increasing engagement."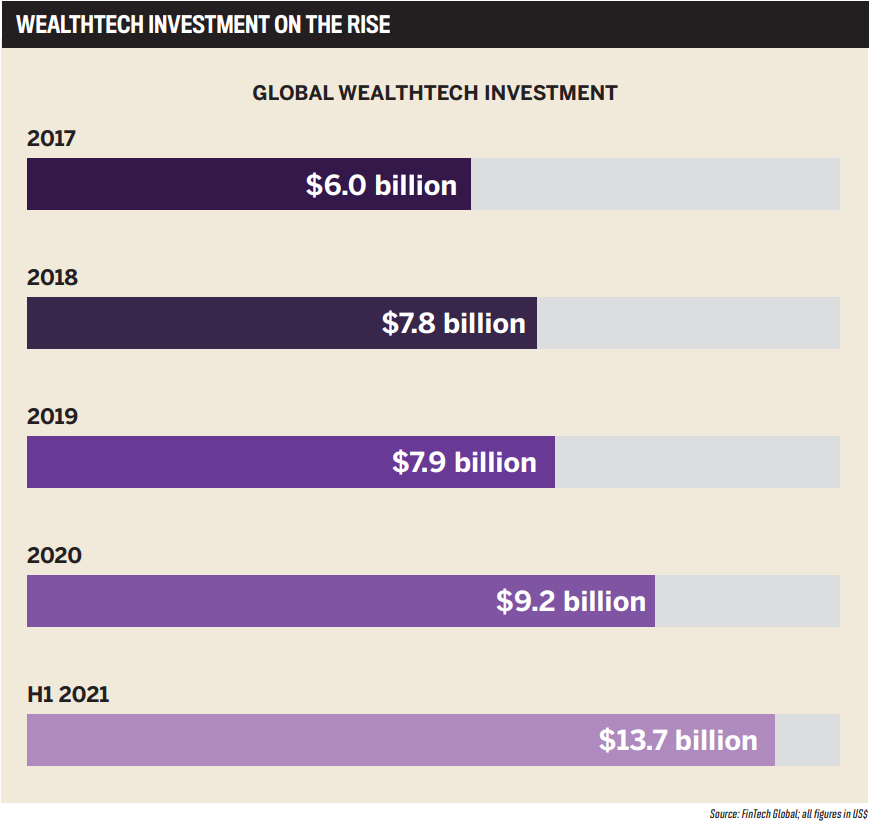 Looking to the future
Technology evolves at a breakneck pace – and Brzeminski predicts that the next decade will likely see seismic changes in wealthtech.

"The next decade in wealth management technology will be shaped by the needs of retirees aiming to tax-efficiently decumulate their assets," he says. "Advisors who focus on this market segment and adopt the right technology platforms will be able to drive deeper value for their clients."

And while technology will undoubtedly play an ever greater role in advisors' daily lives going forward, it's the platforms that allow advisors to focus on the human element of financial planning that will continue to be the most successful.

"Many in the industry have preached that technology will one day replace financial advisors," Rosen says. "I passionately believe that human advisors will continue to be irreplaceable when it comes to helping and coaching clients and families with real emotions, as well as ever-changing needs and goals."
Broadridge
Conquest Planning
NaviPlan by InvestCloud
Nest Wealth
Planworth
Snap Projections

CRM
Equisoft
GoldMine
Maximizer CRM
Salentica
Salesforce Financial Services Cloud

Back-office Support
Broadridge
Nest Wealth
PortfolioAid
Univeris

Portfolio Management
Broadridge
d1g1t
Morningstar
Q Wealth Partners
SIACharts
Univeris
Wealthscope

Financial Tools/Dashboards
AdvisorFlow
Astrella
Broadridge
Q Wealth Partners
Wealthscope

Digital Marketing
AdvisorNet Communications
AdvisorFlow
Intercom
SiteForward (Manulife)