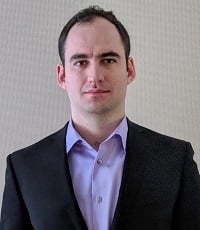 Vice President, Investment & Portfolio Strategy
Northland Wealth Management
Age: 28
Years in industry: 6
Certifications: CFA, CAIA
After first appearing on the 2016 Young Guns list, Victor Kuntzevitsky has continually added to his impressive resume. A finalist in 2017 for Wealth Professional's Rising Star and 2018 Young Gun of the Year awards, Kuntzevitsky is now vice president, investment & portfolio strategy at Northland Wealth Management. In six years, the 28-year old has worked his way up in the firm after starting as an associate. Now, he is sharing his extensive experience in portfolio management, alternative investments and public equities with his clients.
"Everything starts and ends with the client's unique risk and return objectives," says Kuntzevitsky. "Once those goals are clearly articulated, they need to be paired with best-in-class investment solutions. These solutions must generate real alpha and be free of bias and conflict. At Northland Wealth Management we emphasize alternative investments, which are meant to provide diversifying returns from public equities and fixed income."
Kuntzevitsky believes one of the major challenges facing young advisors revolves around the changing landscape of compensation models. "The industry is moving toward a fee-base model with a fiduciary focus that frowns upon trailer fees and commissions generated by selling new issues. Today's young advisors need a larger book of business to become self-sustainable, which often takes years to accomplish."
By dealing with those challenges, Kuntzevitsky has been able to find success early in his career at his firm. "My greatest success is being recognized for my contributions and being elevated to a role that sets portfolio strategy across the firm, lead manager research, and interact with clients on a daily basis. There are many personal client stories where I've been able to deliver real change and benefit that I'm proud of."