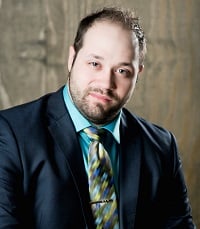 Vice President
Rubbix Risk & Wealth Management
Age: 31
Years in industry: 9
Certifications: CEA
At just 31 years of age, Mitch Vandemark has quickly risen through the ranks in the wealth management industry. He currently holds the position of vice president at Rubbix Risk & Wealth Management. Vandemark has also been recognized as a finalist for the Wealth Professional 2018 Young Gun of the Year award and the 2017 Rising Star award and now takes a spot on the 2019 Young Guns list.
Vandemark's entry into the industry was in part due to one of his greatest influences, his mother, who had a background in finance herself. "She taught me at a young age the importance of understanding money management," said Vandemark.
Those early lessons taught by his mother are now how Vandemark approaches his business and dealing with his clients. "I would say my biggest success is my work ethic and ability to educate my clients in a way they can understand. It's extremely important, to me, that my clients understand what we are doing and the reasons why," added Vandemark. "My approach is quite simple, I go through the same motions as everyone in understanding the client's goals, concerns, risk tolerance and timeframe. Then, with feedback from various investment specialists, I present three or more options from three or more different companies and let the client make a decision on what's best for them."
That knowledge of his clients is key for Vandemark who identifies one challenge advisors are facing as managing clients' behaviours and emotions. "The biggest part to being successful in wealth management is managing clients' emotions," he says. "To be in constant contact with them, especially when the markets are down, is key. Reminding them of their objectives, to trust that the investments we chose fit their objective and that it's normal to see things fluctuate is important. I think the biggest key to wealth management aside from being educated, is communication and managing clients emotions."