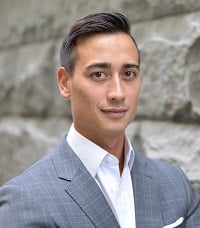 Portfolio Manager
Westmount Wealth Group, HollisWealth®, a division of Industrial Alliance Securities Inc.
Age: 34
Years in the industry: 11
Certifications: CFP, CIM
Garnering the most nominations of any for the 2019 Young Guns list was Westmount Wealth Group's Matt Evans. Evans received an impressive 18 nominations from investment firms, major institutions, fund providers and clients. It is clear that at just 34 years of age, Evans has established himself as a true young gun in the wealth management industry. Evans is the principal driver behind Westmount Wealth Group's investment management. His focus within the practice is the design, execution, and monitoring of model portfolios.
"Given that I am a fiduciary, my responsibility to my clients is no different than a doctor or lawyer," says Evans. "I take an objective, analytical, and fact-based approach to investing and finance. I try to remove all personal and emotional biases that cloud judgement in making decisions with investing."
Evans traces his desire to enter the industry back to his childhood, when he got his first taste of investing. "My father gave me some money to invest in a self-directed online account at an early age," he remembers. "I tripled the account size within a year (luck, not skill) only to lose all of it shortly thereafter. In response, I signed up for a financial management program to learn how to not do that again."
Recently, Evans transitioned his practiced to a discretionary fee-based model, something he cites as his biggest success. "It was an enormous and complex task and took over 1.5 years to accomplish."
Now, Evans is hoping to use what he has learned to help others with their financial lives. "You need a good balance between two skill sets. Competency, in the technical aspects of finance, as well personable skills. A lot of what you will be doing is taking a complex topic and making it simple for our clients to understand."