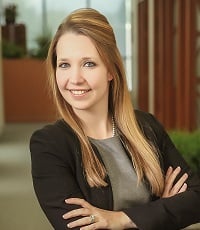 Financial Planner
LCU Financial Ltd., a division of Lakeland Credit Union, and Credential Asset Management
Age: 30
Years in industry: 8
Certifications: CFP, CLU, FCSI
Krista Kardash has taken her experience in financial planning and has strived to share her knowledge with her community. Despite only 30-years old and eight years in the industry, Kardash has made it a point of making financial knowledge more digestible through numerous education initiatives and speaking engagements. One area she has focused on is women and wealth management. She has hosted two Women, Wine and Wealth events that cover a wide array of financial topics.
"I take great pride in supporting our community, alongside my credit union, in financial literacy initiatives," says Kardash. "Truly elevating the understanding and engagement of finances with our members is a passion of mine. I have a deep passion for teaching and working with women in particular to elevate their confidence and competence in financial matters. The financial services industry often fails to cater to and engage women in meaningful ways. Wealth management is about enriching lives, not just wallets, and empowering my community with knowledge has been extremely rewarding."
Kardash remembers getting interested in the industry at a young age with a lesson taught to her by her father. "After studying multiple fields, I somewhat unexpectedly fell in love with finance, I thought I would end up in law. Looking back, my love of finance was always there. From the first time my father, a fire inspector, asked me to 'invest' my allowance at five-years-old, a passion for finance began. Though I dabbled in other fields, I always came back to finace, opening pretend stock accounts in the seventh grade and opening my first RRSP by the age of 15."
Now, Kardash is viewing the ever-changing landscape of the industry as an opportunity. "Advisors need to view the regulatory, delivery channel and cultural changes that are rapidly occurring in our industry as opportunities, not threats," she says. "Changes that bring wealth management services to more people, increased transparency and non-traditional service and delivery methods will create new opportunities for advisors and elevate the trust in our industry as a whole."