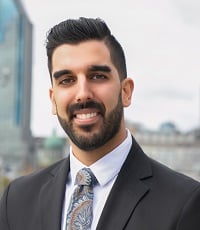 Investment Advisor
Myriad Private Wealth, HollisWealth®, a division of Industrial Alliance Securities Inc.
Age: 31
Years in industry: 9
Certifications: CIM
Joseph Alfie made an appearance on the 2015 Wealth Professional Young Guns list and returns for the 2019 version. Yet appearing on the lists are only a snapshot of Alfie's recognitions. In 2017, he was named the Knowledge Bureau Distinguished Advisor Conference Young Advisor Award winner. The award recognizes young advisors who demonstrate outstanding achievements in: knowledge and skills, referrability, industrial collaboration, professional development, community leadership, business leadership, innovation, and business growth and retention. With his success in the industry at a young age, Alfie has been one of the youngest, yet fastest growing advisors at HollisWealth, a division of iA Securities.
In 2016, Alfie achieved what he says is his greatest achievement so far, opening an office in Old Montreal with his partners. Alfie is now focused on building his client base, something he sees as a challenge for young advisors. "Growing a client base while managing portfolios and staying on top of all the changes in the financial landscape is the biggest challenge today."
Still, Alfie tackles this challenge with his approach which he tries to keep as simple as possible. "I keep it simple. Little to no speculative positions, blue-chip dividend paying stocks, actively managed fixed-income for our defensive sleeve and an allocation to growth for clients who have a higher tolerance for risk."
When it comes to being a successful advisor, Alfie believes that it all comes down to knowing your clients. "A successful advisor should know his clients goals just as well as he knows every aspect of their finances. Continuing education is also a key component of staying ahead of the curve and providing clients with the best and most up to date advice possible."