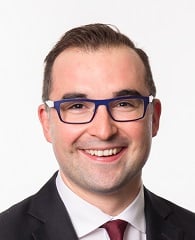 Lead Partner/Portfolio Manager
White Hewson Wealth Advisory Group, National Bank Financial
Age: 34
Years in Industry: 12
Certifications: CFP, CIM
Grant White is the reigning Wealth Professional Young Gun of the Year award winner. In addition, he has appeared on the WP Top 50 Advisors list (2018), Young Guns List (2016) and already has 12 years in the industry. White is currently lead partner and portfolio manager at White Hewson Wealth Advisory Group, National Bank Financial.
White entered the industry on the advice of his father who said if he liked working with people he should look into the financial industry because it was a great field to help people achieve their goals. "My dad was in the business for about 35 years, so I grew up in it. He didn't originally push me into it though, he actually pushed me away, ironically," White remembers. "However, I realized how much I enjoyed the market and investing in companies. It was a combination of two passions: working with people and helping them succeed."
As White followed in the footsteps of his father, he realized there were challenges for young advisors, like him, entering the business. "My biggest challenge was picking up new clients as a young advisor and getting credibility in the industry."
Now, White aims to help more young advisors by presenting them with more opportunities through his own mentorship program. White brings new advisors into his firm and encourages them to pick a strategy and keep working at the business.
He describes his approach to wealth management as focused on planning. White specializes in dealing with small business owners, something that his family has been for years. "My wealth management is a family business but we have owned and operated a number of family businesses here (Winnipeg) for decades. We work with a lot of small business owners and feel we can speak on the same level with them."