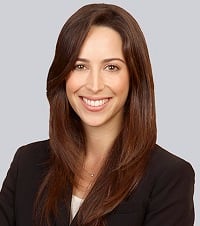 Vice President, Client Wealth Management
Gluskin Sheff
Age: 35
Years in industry: 10
Certifications: CIM, MBA, BBA
As Gluskin Sheff's vice president, client wealth management, Emily Ben-Haim wears multiple hats. A finalist for the 2018 Women in Wealth Management Young Gun of the Year, she leads Gluskin Sheff's Women's Events Series, is a member of the firm's asset mix team, spearheads centers of influence referral strategy and is a registered Portfolio Manager. Over the last year, Emily has led Gluskin Sheff's rebranding strategy, which re-positions the firm's brand in the evolving marketplace.
"When I joined Gluskin Sheff I immediately identified an opportunity to challenge traditional methods by focusing on female clients and founded the exclusive Women's Events Series, which was designed to engage, inform, inspire, and empower female clients and to encourage women to become more involved in the management of their wealth," said Ben-Haim. "Since our inaugural event, attendance for Gluskin Sheff's women's events has doubled to over 300 women. Furthermore, I spearheaded the expansion of Gluskin Sheff's 'NextGen' program, which focuses on educating the future generation of clients to facilitate a smooth transition of wealth between generations."
Prior to her current role, Ben-Haim has also held positions in New York and London. Before her experience in financial services, she served in the Israeli Defense Forces - General Chief of Staff Bureau and was subsequently selected Senior Procurement Officer for the Israeli Defense Ministry – Delegation to the USA.
Beginning her career on the risk management side of the industry, with Morgan Stanley, during the 2008 financial crisis, Ben-Haim soon realized how much she enjoyed working with and helping people with their financial lives. "I joined J.P. Morgan's Wealth Management team and now as a vice president at Gluskin Sheff, I have the privilege of helping families manage their financial well-being."
For Ben-Haim, being successful in the industry is about results and relationships. "In addition to delivering strong investment results, I firmly believe that providing exceptional client service is fundamental to forming and maintaining long‐term, trusted relationships. My clients know that I deeply and genuinely care about them and their family's success, peace of mind and well-being."