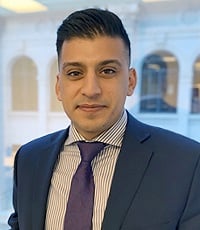 Investment Advisor
Mangrove Wealth Group, HollisWealth®, a division of Industrial Alliance Securities Inc.
Age: 28
Years in Industry: 5
Certifications: WME, AIS, LLQP
Deven Lad may only be 28, but the hard work and dedication he has shown so far in his career has inspired multiple industry professionals to nominate him for this year's list. Lad has already grown his book of business to more than 70 clients over the past five years and has not hesitated to implement alternative strategies, something even more topical today. In addition, Lad has been instrumental in his firm adapting technology by introducing a digital administrative structure that has helped them go paperless, resulting in more time to build stronger relationships, see more clients and meet more prospective ones.
Lad says that one of the keys for him in his career has been having an inquisitive nature. "I got to where I am today by asking questions, having a learner mindset. Going into any meeting whether it be clients, portfolio managers, lawyers, accounts etc. always asking questions and wanting to challenge conventional wisdom."
That is something he believes has helped him in crafting his approach to wealth management. "This is the same effort I take when working with my clients, it has helped me uncover their true ambitions with their wealth. Money, at the end of the day is a means to an end. Everyone's end goal is different and everyone's journey to that goal is different. No matter how good you are as a money manager, if you cannot walk a mile in a client's shoes and understand their true meaning of wealth, I don't think you should be advising them."