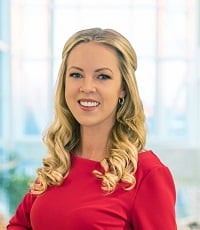 Associate Investment Advisor
Rathwell Financial, HollisWealth®, a division of Industrial Alliance Securities Inc.
Age: 25
Years in industry: 5
Certifications: RRC, WME
After making the list in 2018, Brianna Rathwell returns in 2019. Following in her father John's footsteps (Number 27 on this year's Top 50 Advisors list) the Rathwell's are cultivating a family business in wealth management. Rathwell has benefited from the sharing of information from older advisors to the next generation. Now she is hoping to spread that recipe of success to other advisors to help in the sustainability of the industry.
"To be a successful advisor you need to be proactive, not reactive. In other words, you should always be planning for the client's future," explained Rathwell. "Whether that means being prepared for upcoming life events, adjusting for possible obstacles, or helping the client reach their retirement and estate goals."
Rathwell believes that the biggest challenge facing young advisors is their ability to instill confidence that they are knowledgeable enough to be handling people's savings. It is with that in mind that Rathwell, and her practice, have structured their approach. "Both holistic and personalized financial planning. It's important to consider every aspect of each individuals' financial situation in order to truly work in their best interest."