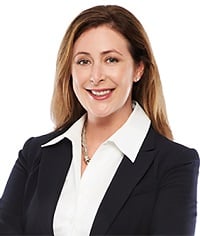 Associate Investment Advisor
Evans Wealth Management Team, Richardson GMP
Age: 34
Years in industry: 15
Certifications: CFP, CIM, EPC, CLU, CEA
Ashley Currin, of Evans Wealth Management, Richardson GMP, brings the most industry experience to this year's Young Guns list with 15. In those years, Currin has successfully achieved multiple certifications including her CFP, CIM, EPC, CLU and CEA. Currin is the co-founder of the LifeWealth Advantage, a highly customized approach that starts with clients and what matters most to them. The program aims to answer the question of 'Am I going to be OK?' Recently, Currin was recognized for her achievements by being a finalist for the inaugural Wealth Professional Women in Wealth Management Young Gun award.
"I take a deeply holistic approach to wealth management," says Currin. "I take the time to really get to know my clients and what matters most to them. I bring a financial planning specialty to my practice by developing highly customized LifeWealth Plans for my clients' unique and ever-changing needs. Their customized plan becomes the baseline of our relationship and is adjusted as their evolving needs change and mature."
Currin has seen her career evolve tremendously throughout the years but says that she realized it was the right one while working as assistant at a life insurance practice. "It was there that I started on my path to becoming a wealth advisor," she remembers. "I love working directly with clients and find it fascinating to create a plan that is tailored to a client's unique situation. No two clients' needs are exactly the same and this provides a lot of variety. I find it incredibly rewarding to make a meaningful impact on their lives."
During the span of her time in the industry, Currin has never stopped learning, something evident by her certifications. "My greatest success as an advisor has been building the foundation of my career on education. I have focused countless hours, resources and energy on earning specialized designations in a well-rounded array of disciplines. Earning these specialized accreditations has provided me with an in-depth knowledge and expertise that allows me to advise my clients on a deeper level."