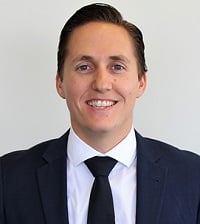 Investment Advisor
Luft Financial, HollisWealth®, a division of Industrial Alliance Securities Inc.
Age: 35
Years in industry: 12
Certifications: CIM
Aaron Arnold makes his third appearance on the Wealth Professional Young Guns list after previously appearing in 2015 and 2017. The 35-year-old has been working in the industry for the past 12 years and was the recipient of the 2018 IIAC Top Under 40 award. The award recognizes highly motivated and talented young professionals whose drive, dedication, personal and professional qualities and accomplishments have brought distinction to the investment/financial industry.
In addition to his personal success, Arnold makes an effort to give back to his community with education seminars to organizations like: the City of Vancouver, Vancouver Police Department, Vancouver Fire Department, Metro Vancouver, and Prince George Fire Department, in addition to local private businesses. "On average, I teach one retirement planning or financial planning seminar a month," said Arnold. "I feel most people are under educated when it comes to their finances and believe that this is a key component to their financial health. I feel the more they understand the reason for doing something the better they will do."
That belief in financial education has become a key aspect to Arnold's practice and his relationships with clients. "It is not enough to just have an investment plan or strategy. You also need a financial plan and need to understand the plan to increase your chances of success," he added.
Arnold has been able to grow his business assets by $10 million each of the last five years and says that he owes most of that success to the strong team around him. "This is only possible with the help of a great team. One of the things I am most proud of is the team we have built and the service we provide all our clients. That is the most important part, ensuring our clients' needs and goals are being met."