Tom Irwin of Raymond James is part of the Wealth Professional Canada Young Guns 2018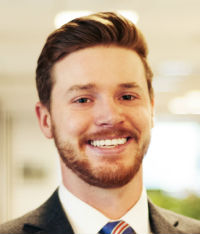 Wealth manager
RAYMOND JAMES
Age: 31
Years as a financial advisor: 2
Certifications: CIM, FPSC Level 1
Like a number of this year's Young Guns, Tom Irwin is a second-generation financial advisor. Having followed his father into the business, Irwin now regards him as his greatest influence. Such mentorship is vitally important for younger advisors, but not everyone can call on the expertise of a parent, so Irwin would like to see a greater commitment to professional development among his peers.
"The CSI and the FPSC do provide excellent material to help push advisors to the next level," he says, "but I would like to see at least the Level 1 FPSC designation become mandatory for advisors."
It's no secret that there's a shortage of younger financial planners in Canada, which threatens the long-term viability of the industry. In Irwin's opinion, a greater focus on financial education, both in elementary and high school, could go a long way in improving the financial literacy of the general population, and in turn, convince more people to consider a career in wealth management. It's a calling Irwin has found to be greatly rewarding.
"I love teaching people about retirement savings, and it makes me proud to have an impact on their futures," he says.
That's not to say the job doesn't frustrate him at times; in particular, he believes the pressure to provide high-quality service for an unrealistic fee is a real downside. As DIY investing grows in popularity, advisors have to consistently display their value, and often this can come down to good conversation.
"Effective and impactful communication with clients is more important than ever before," Irwin says. "Advisors have to provide a better level of service or risk losing clients to cheaper options."