Richa Hingorani of RBC is part of the Wealth Professional Canada Young Guns 2018v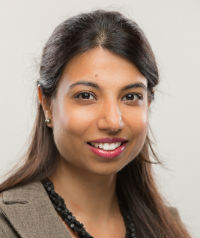 Senior director, digital strategy
RBC WEALTH MANAGEMENT
Age: 35
Years in wealth management: 14
Now a senior director of digital strategy at Canada's biggest bank, Richa Hingorani started her career with another of the Big Six. After working as a financial planner with CIBC Imperial Services, Hingorani made the move to RBC Wealth Management in 2010, and her abilities ultimately led RBC to choose her to lead digital innovation for the firm. Not surprisingly, Hingorani believes her background as an advisor gave her the platform to succeed in her current role.
"The years of experience working with clients and advisors at various levels really helped me to plan our client journeys digitally," she says. "Our work with fintech experts in Silicon Valley to develop a new innovative platform called MyAdvisor will be the way of delivering advice for RBC in the future."
Now in a management role, Hingorani believes the industry can do more to make itself a more attractive proposition for young advisors. "The time to take courses and become proficient with accreditations is two to three years and typically after university, which might be a barrier for some," she says. "It would be easier to have parallel paths while in university that may shorten the time to proficiency."
Now that she has moved on from the day-to-day task of providing financial advice, focusing instead on leading that advice on an institutional level, Hingorani has seen the industry shift in a number of significant ways.
"It has tremendously changed as emotional intelligence has become key, in addition to the technical skills of providing tax, retirement or investment advice," she says. "Client preferences of connecting with advisors and the amount of information that is now available to clients have also led to a need for higher capability of advisors. Robo-advisors have also put some positive pressure on financial advisors, as now they have to ensure they prove the power of human advice – that is, in connecting the different goals, life events and complex financial situations for a client, which is harder to accomplish through algorithms and robots."