Ralph Nour of Manulife Securities is part of the Wealth Professional Canada Young Guns 2018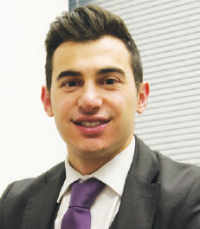 Investment advisor
NOUR PRIVATE WEALTH/ MANULIFE SECURITIES
Age: 25
Years as a financial advisor: 1
Certifications: CSC, CPH, WME
Joining his older brothers in the advisory business, it didn't take Ralph Nour long to realize some of the main difficulties young advisors face.
"The first challenge is the increase in self-directed investors due to their lack of trust in advisors' capabilities to bring value over and above what a passive investment vehicle can do," he says. "The second challenge is the changes in fee structures. For newcomers, that lump-sum commission can play a big role in helping them survive in their first few years."
Nour has had the advantage of making his start with Nour Private Wealth alongside a number of well established financial planners, including Elie Nour, a regular presence on Wealth Professional Canada's Top 50 Advisors list.
"Most of the support came from my family and the team of advisors at the branch," Nour says. "I am lucky that I have two older brothers who are successful in this business. They taught me the ins and outs of the industry, and I'm grateful that I got the opportunity to learn from their mistakes and experiences.
While still in the formative stages of his advisory career, Nour has quickly learned that clients aren't always receptive to guidance, which can be frustrating for those providing it.
"I think it's the fact that people sometimes do not give themselves the chance to really understand their finances the way they should," he says. "They get carried away with their day-to-day lives and tend to procrastinate in taking care of their finances. This creates a lot of lost opportunities for clients."