Katelyn Krueger of BMO Nesbitt Burns is part of the Wealth Professional Canada Young Guns 2018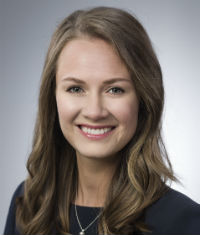 Associate investment advisor
BMO NESBITT BURNS
Age: 27
Years as a financial advisor: 1
Another Young Gun who recently completed her first year as a financial advisor, Katelyn Krueger is aware that her competition isn't just coming from older advisors anymore. Investors now have the option of investing via an online platform, so it's important that human advisors distinguish themselves – and Krueger has some ideas about how they can do so.
"It is developing a keen ability to not only foresee change, but to strategically innovate in the face of it," she says, "while navigating quicker than the next star advisor or piece of software meant to replace human involvement."
Working with Nesbitt Burns, one of Canada's best known advisory firms, Krueger has developed a strong sense of what is expected of her and the profession in general.
"Developing a meaningful relationship allows you to understand the needs and goals of each client, which ultimately allows us to employ the appropriate wealth management and accumulation tools each client needs to reach his or her financial objective," she says.
Those relationships take time to develop, and clients don't always act in their best interests. It is the advisor's job, therefore, to apply cool-headed judgment when it comes to financial planning.
"Investors as a whole can be emotional and tend to follow the crowd; when volatility spikes and markets dip, many investors react in fear," Krueger says. "One of the most important, and at times the most challenging, aspects of the job is to remind clients of the long-term view and their objectives during periods of market volatility."
If a young advisor can provide such service, they will have every chance to succeed in this industry. And, as Krueger explains, advisory firms have an important role to play in ensuring the talent well doesn't run dry.
"Wealth management is an industry that is consolidating," she says. "Firms need to understand that young and old opinions are equally important to clients. I think wealth management teams need to consider the importance of renewed talent and continue hiring young advisors."