Farialle Pacha of Richardson GMP is part of the Wealth Professional Canada Young Guns 2018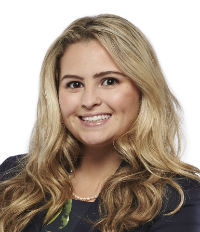 Associate investment advisor
RICHARDSON GMP
Age: 26
Years as a financial advisor: 1
Certifications: CSC, CPH, WME
It's no secret that Canada's advisory business is demographically skewed. Among the Young Guns featured here, most agree that the industry needs to do more to attract new talent. That isn't the only issue, however – advisors are also predominantly male. With women set to control 50% of assets in Canada, the imbalance among those who manage those assets needs to be addressed. Farialle Pacha is an example of the new generation of female advisors, but she believes more needs to be done to achieve greater gender diversity in wealth management.
"Although this is a more systemic problem within the entire industry rather than specific to the job itself, I cannot tell you how tiresome it is to walk into a room and be one of a handful of women," Pacha says. "I am very thankful for the strong and ambitious women before me who paved the way for me to be able to pursue a career as a financial advisor. We still have a fair way to go to continue pushing for equal representation and diversity, especially within the C-suite. It's about time we stop debating the importance of diversity, as I imagine most of us already know the value it brings – what frustrates me is the stagnation phase we seem to be in."
Now serving high-net-worth clients, Pacha's opinion of what makes a good financial advisor has changed over the years. As she outlines, it involves a lot more than selling investment products.
"Truly effective and successful advisors don't just build portfolios designed for a particular client's investment objectives and risk tolerances," she says. "They must act in the best interests of all the clients they engage with. They become the stewards of that wealth and ultimately the designated individual who ensures goals are being met."