Jordan Waldman of The Corporate Solutions Team is part of the Wealth Professional Canada Young Guns 2016.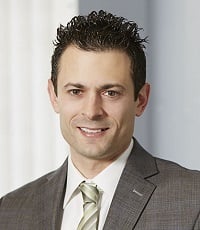 JORDAN WALDMAN
Senior partner and Certified Financial Planner
The Corporate Solutions Team

Saving for the future is a major concern for the millennial generation, considering sky-high property prices and a prohibitive cost of living. Jordan Waldman is well aware of those worries, and as a result, he devotes a great deal of his time with The Corporate Solutions Team to addressing the needs of younger clients and helping them prepare themselves for the years ahead.

"I provide a holistic approach to financial planning for all clients, large or small, young or old – establishing young clients with a junior executive package to help them for the future with retirement savings, short-term savings and balancing risk protection," he says.

A graduate of York University with a BA in economics and sociology, Waldman has climbed the ladder at The Corporate Solutions Team and today finds himself as a senior partner with the firm. That ascent also saw him join the Advocis political action committee and qualify for membership in the Million Dollar Round Table last year.

Outside of his professional life, Waldman is devoted to volunteering for a number of worthy causes, including the Rouge Valley Health System Foundation, the Sick Kids Hospital in Toronto and the Jewish National Fund of Canada.