Hani Zakaria of BMO Nesbitt Burns is part of the Wealth Professional Canada Young Guns 2016.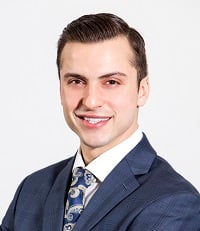 HANI ZAKARIA
Investment advisor
BMO Nesbitt Burns

While CRM2 hasn't exactly received a warm welcome from many in the investment community, there are plenty of advisors out there who believe it is an entirely positive development. Hani Zakaria of BMO Nesbitt Burns is one such individual, part of a new wave of advisors who are nurturing change in the industry.

"I embrace the changes with mutual funds in terms of getting rid of deferred sales charges and increasing transparency," he says. "I have come across a lot of people who didn't really know what they were set up for, and unfortunately, their advisor was taking advantage of that lack of knowledge. Our team is already well positioned for the changes coming in. Deferred sales charges and commissions have already gone the way of the dodo bird with our firm."

Zakaria's introduction into the industry came while he was still completing his bachelor of commerce degree at the University of Toronto's Rotman School of Management. Combining an internship at BMO with his studies made for some long, arduous days, but he says it was to his great benefit in the long run.

"I was working full-time while studying," he says. "I was selected for an apprentice program in my second year, so I would come to the office 9 to 5 and then do all of my classes in the evening. It was stressful but a real eye-opener into the real world."

That harsh dose of reality exposed Zakaria to some of the downsides of the industry that he believes need to change. "It's still very old-fashioned and an old men's club in many ways," he says. "The demographic needs to be younger, more female and with different ethnicities. The nature of the industry means the well-connected just breed more well-connected people – it's almost like a circular arrangement. I don't have a very wealthy family, and I didn't have a substantial network of people that I could build a business with at school. I had to go to strangers and build my business that way."

Now that he has established himself with BMO Nesbitt Burns, Zakaria can pursue his other passions: acting and music. He recently formed the Bay Street Performers with a colleague, putting on an original play titled "The Other Side of The Cubicle" as a benefit for Arts for Children and Youth. The group brings like-minded Bay Street professionals together and offers a platform for them to step outside their comfort zone and try something new.