Alexandra Horwood of Alexandra Horwood & Partners is rank 13 in Wealth Professional Canada's 2019 Top 50 Advisors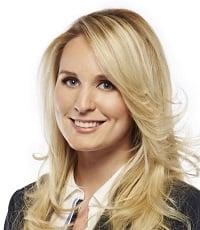 Alexandra Horwood & Partners
Richardson GMP
Growing up in a family of investment advisors, Alexandra Horwood has always been exposed to the business. However, it was her skill set, not her connection to the industry, that compelled her to become an advisor. "Math, sales, teaching and philanthropy – the wealth management business so nicely combines them, and it's the first job I've had where I truly feel like I can be myself," she says.
Horwood has some lofty goals for 2019 including adding $50 million in new assets, getting her client base to a median of $1 million per household, adding 15 new clients with $1 million-plus net worth and generating $3 million in recurring T12 revenue. "There is no other business I would want to work in," Horwood says. "When my husband asks me about retirement, I tell him I am never going to retire."
And why would she? As a regular fixture on the Top 50 Advisors list – including being the top woman on the list in 2016 and 2018 – and the youngest director of wealth management in the history of Richardson GMP, Horwood has clearly found her calling.