Atul Tiwari of Vanguard is part of this year's Wealth Professional Canada's Hot List.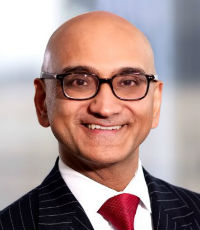 Managing director and head of Canada
VANGUARD
Vanguard, the world's second largest asset manager, made quite the stir earlier this year when it announced it was bringing its low-cost approach to investing to Canada's mutual fund space. Its four new funds – Vanguard Global Balanced Fund, Vanguard Global Dividend Fund, Vanguard US Value Windsor Fund and Vanguard International Growth Fund – have a maximum management fee of 0.50% for Series F, which is considerably cheaper than its competitors.
Overseeing this new direction for Vanguard's Canadian operation is Atul Tiwari, who joined the firm in 2011 after playing an instrumental role in building BMO's ETF business. He will undoubtedly have similar ambitions for Vanguard, both in mutual funds and the ETFs the firm has become synonymous with in recent years.