Lynda and Allison Hay of TD Waterhouse Private Investment Advice is part of this year's Wealth Professional's Women of Influence.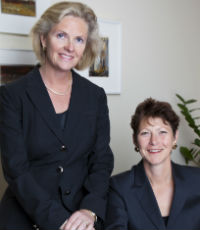 Lynda Hay
Vice president and investment advisor
Hay Wealth Advisory Group
TD Waterhouse Private Investment Advice

Allison Hay
Investment advisor
Hay Wealth Advisory Group
TD Waterhouse Private Investment Advice

One of the rare sister acts in the industry has proven to be extremely successful.

"There are lots of family partnerships in our business, but there aren't a lot of sister acts," Lynda says. "Most women say,'Wow, I couldn't work with my sister.' We love what we do. It's a pleasure and an honour, as sisters, to work together." One simple maxim has helped the Hays form a thriving practice.

"We've always put the client's interests first," Lynda says. "It's short and sweet, but you don't survive in this business long-term if you don't do what's right for your client." Both Lynda, who has been in the wealth management industry for more than 29 years, and Allison, who has logged 15 years, have witnessed its rapid evolution.

"The industry certainly has changed and evolved throughout all these years," Allison says. "The way business is done has been a progression, and it's becoming more and more so with tighter compliance and regulation. This is good, but it's primarily a relationship business."

"We have this big pink elephant called CRM2," Lynda adds. "TD and our competitors are investing millions of dollars to be ready by the implementation deadline. This is a very important catalyst for change because it provides the clarity, information and education that is vital to the investor and part of the role of the advisor. We take this responsibility very seriously, and this has been part of our practice for years."


Are you seeing any improvements in gender diversity in the industry?

Allison: We've found a welcoming environment, but I recognize that this is not always the case. While the industry is trying to attract more women to advisory roles, those of us who have been around for a while need to lead the way and show younger women that a career in investment advice can be truly rewarding.

With the industry moving toward a fee-based model, could that entice more women to pursue a career as an advisor?

Lynda: Having moved our practice to more of a fee-based model allows us more time to take care of our clients, which is really important, since building a trusted advisory relationship – not picking individual stocks – is what determines your success. Women typically are very nurturing, and this is an asset when developing relationships with clients. A fee-based business provides a more stable income, and this is something that appeals to women in particular.

What trends do you see for the year ahead that either concern or excite you?

Allison: The volatile markets magnify the importance of talking to your clients, and given that we are in Alberta, we have additional economic challenges as well. These are obviously of concern to our clients, and we look forward to helping them through this difficult time.

Demographically speaking, there are billions of dollars that will be changing hands from one generation to the next, and our approach to business will be a benefit to those in this situation.

We have an amazing opportunity to help the next generation with their finances, and this is particularly exciting.