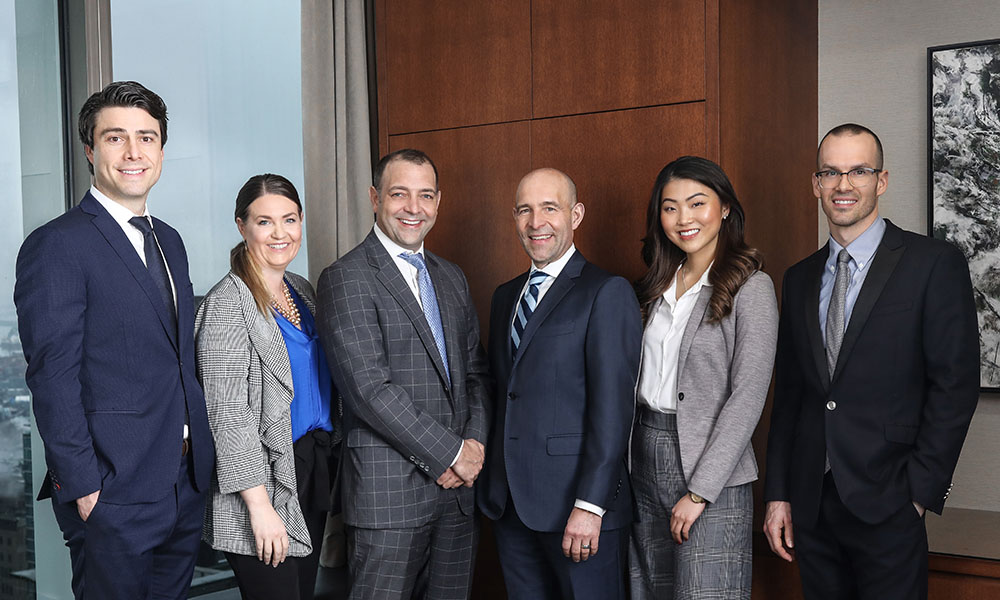 Firm: Canaccord Genuity
Location: Vancouver, BC
Year established: 2007
Employees: 6
AUM: $700 million
Target clients: Those who focus on wealth management, not trading
Erik Dekker and Mark Hewett, portfolio managers and SVPs of the Dekker Hewett Group, have both been with Canaccord Genuity for their entire careers. After breaking into the industry in the late '90s, the two began working together and officially joined forces in 2007. By creating a team-based practice, they have been able to offer clients more and take care of all aspects of their wealth management, something both partners say would have been impossible on their own.
"It's a lot easier for us to serve our clients having a team-based practice," Dekker says. "We started with Mark and I, and it has grown from there. One of the big reasons for creating a team and having that team atmosphere is so clients can benefit."
Dekker and Hewett decided to merge their practices when they noticed that the wealth management business was changing and clients were demanding more. Now they view themselves as their clients' CFO, able to answer questions about anything related to their finances.
"As clients have demanded more, it has become more taxing on our industry to keep up with what they need," Dekker says. "The only way we could provide everything to clients was having the team-based practice. It started with a merger between Mark and I and an assistant. Then we added more two assistants, a marketing manager to make sure clients get their info on a regular basis, an investment specialist, and then an associate advisor who can talk to clients when we are busy."
This all-encompassing approach is something the pair takes pride in. They don't try to know everything individually; instead, they rely on specialists to delve into different areas of the financial industry, including insurance, financial planning, estate planning and philanthropic activities.
"When you can bring all of the specialists together and offer that level of service to clients, you have a pretty amazing practice because you give people what they need," Dekker says.
One thing that makes the team unique is its attention to client communication. "One of the things we built our team on is making sure we have a well-defined communication schedule with every client, driven by what the client wants," Hewett says. "We sit down with them in the beginning and find out everything about their situation, including how much they want to hear from us. We have an in-depth knowledge of who our clients are and what they want."
"That regular communication is key because their lives are fluid and dynamic," Dekker adds. "Regular communication is important because people die, get inheritance and lose jobs. If we don't know what's going on, we can't service them to the level we would like. We also pride ourselves on the fact that when clients call our office, they don't get voicemail."
While the financial industry has changed a great deal since the Dekker Hewett Group was established 13 years ago, Dekker and Hewett say their vision has not. They still aim to make sure their clients are well looked after and have everything they need.
"The surrounding financial market has changed and made us make little tweaks, but our big-picture vision has never had to change," Hewett says. "The online aspect and the regulatory environment have changed, different fee structures have come down, and the industry has gone from more transactional to more fee-based, but ultimately our vision is the same."
One reason they've been able to maintain their vision, Dekker and Hewett say, is because of the support they've received from Canaccord. "They give us the independence to manage our clients as we see fit, as long as we are compliant," Hewett says. "We are also not tied to structured products. Canaccord does have a couple small proprietary things, but there is no pressure to use them. They have always given us what we feel are the best tools in the business."
Those tools have helped the team manage various challenges, including the transfer of wealth from older clients to the next generation, as well as managing personalities and emotions.
"People are all different, so when you talk about wealth transfer from a parent to a child, you are dealing with two personalities who may have different thoughts for those funds," Dekker says. "Communicating and meeting new people is very important, and making sure both parties understand where things are going."
Dekker and Hewett see themselves remaining in the industry for another 10 to 15 years, and they remain committed to their vision of growing a team that looks after all of their clients' needs.
"At some point, the business will transition to younger advisors," Hewett says. "But at this point, the goal is to continue to build a solid business within Canaccord that people can be proud to be part of."