ModernAdvisor's platform encourages advisors to streamline investment management so they can focus on other business elements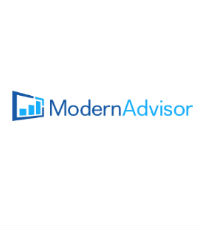 Serving clients of all sizes
ModernAdvisor's platform encourages advisors to streamline investment management so they can focus on other business elements
When ModernAdvisor CEO and co-founder Navid Boostani noticed a technological void in the investment industry, he felt compelled to come up with a solution.
"The systems and client onboarding were archaic," Boostani says. "It was done mostly on paper, which wasn't efficient and led to higher costs."
He felt the current landscape was pushing advisors to move upmarket and either eliminate or neglect smaller clients. So he developed ModernAdvisor to make onboarding seamless and give advisors the option to use the digital platform to effectively service clients of any size.
ModernAdvisor offers ETF portfolios – 10 core and 10 socially responsible – that are tailored to an individual's goals, risk tolerance and preferences, and are automatically rebalanced. ModernAdvisor poses a number of questions to clients to help determine which portfolio is right for them. Advisors and insurance agents also have access to the platform and can offer their clients the same globally diversified ETF portfolios.
"If advisors are working with an MFDA dealer, they are paying 20% to 30% to the dealer. On our platform, they keep 100%" - Navid Boostani, ModernAdvisor

"It allows advisors to manage relationships while most of the admin work is done through the platform," Boostani says. "An individual is mapped into one of 10 risk levels and can choose between core or socially responsible, based on preference. Each model portfolio is designed by CFA charterholders with the help of a computer algorithm to optimize risk and return."
Although ModernAdvisor uses passive index ETFs, the firm has an investment committee that is actively involved in constructing the portfolios.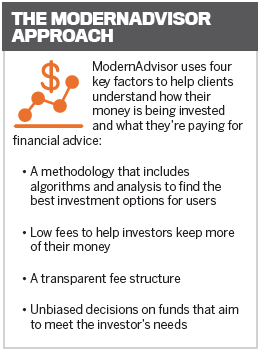 "There's still important differences between where the concentrations are in terms of the sectors and countries they have exposure to," Boostani says. "We look at all of those factors with an investment committee and pick what we believe is the best fund for that specific exposure."
ModernAdvisor comes with a cost advantage for advisors, too: Not only do they save on dealer fees, but they also receive a referral fee for using the platform. ModernAdvisor charges the entire amount (its investment management fee and the advisor's fee) on the account so that it's transparent to both the advisor and client.
"A lot of times, advisors moving to our platform can reduce client fees by 0.5% to 0.6%, on average, while increasing their own revenue," Boostani says. "If advisors are working with an MFDA dealer, they are paying 20% to 30% to the dealer. On our platform, they keep 100%."
While many in the industry remain skeptical of robo-advisors, Boostani says ModernAdvisor is working hard to build partnerships with advisors, rather than compete with them.
"We want to partner with advisors and help them grow and grow with them," he says. "We don't want to impose any platform fees or minimums. We welcome all advisors, even if they are just starting out."
Boostani is proud of the ModernAdvisor platform and its ability to help advisors focus on more important aspects of their business.
"It reduces compliance, creates higher payout, is much better technology and results in more seamless client onboarding," he says. "Advisors can rest assured that all portfolios are well thought out and designed by CFA charterholders and tailored to the specific risk and return parameters the client is looking for."