InvestCloud allows clients to pick and choose the best apps to enhance their digital experience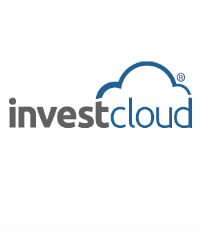 Creating your own app portfolio
InvestCloud allows clients to pick and choose the best apps to enhance their digital experience
Enhancing a client's digital experience is becoming more and more important for advisors, but figuring out the best solution can often be a challenge. That's why giving individuals the ability to pick and choose the services they need is at the core of InvestCloud's philosophy.
"We saw the value of fintechs but also the problems they had," says Mark Trousdale, InvestCloud's chief marketing officer, of the company's roots. "They were slow, monolithic, and a lot was done wrong in building them."
So InvestCloud took a different approach from the start, laying a foundation built on three core concepts: Programs Writing Programs [PWP], a digital warehouse and hyper-modular apps.
"PWP is a code generator, a tool kit to be used by non-technologists and technologists as well," Trousdale explains. "Our claim is that one designer can do the work of 50 programmers with PWP. It is quite an expediter when it comes to putting together apps and allows the user to control what the experience will look like."
"A lot of advisors still rely on email, phone calls and quarterly meetings, but those things don't cut it anymore. What differentiates you is your digital experience" - Mark Trousdale, InvestCloud

InvestCloud's digital warehouse is a data warehouse native to the cloud. It manages structured data such as securities and tax information – the things advisors need to run their practices. It also manages unstructured data, such as news and Twitter feeds, that enhance an advisor's digital presence.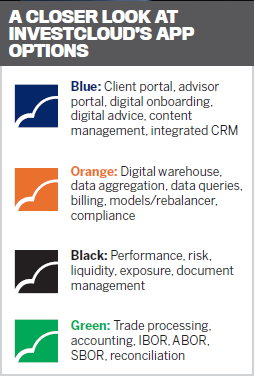 The hyper-modular apps are InvestCloud's go-to-market strategy. The 250-plus apps (which cover everything from client portals to trade processing) are grouped by colour blocks to help clients determine which ones are right for them.
"We cover a lot on the life cycle," Trousdale says. "We clustered apps that we thought would service the industry together, but apps can be combined from different colours. We start with a functional study of our clients and find the right apps for their needs. That can include one colour, but also the ability to pick and choose from others to create a customizable portfolio of apps."
That customization and flexibility, along with the ability to integrate into other thirdparty apps and software, helps InvestCloud create options for all types of clients. Giving advisors easy access to more data allows them to cut costs while making better decisions about their clients. And by providing a more customized experience for investors, Trousdale believes InvestCloud can help advisors retain clients.
"A lot of advisors still rely on email, phone calls and quarterly meetings, but those things don't cut it anymore," he says. "What differentiates you is your digital experience. It needs to be as good as possible and highlight the way you look after money."