The three pillars of Zagari Simpson & Associates' My Planning process that has helped them grow rapidly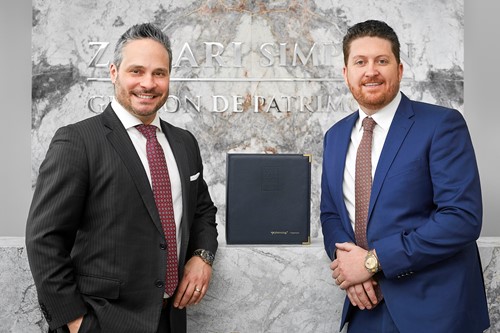 Trust, chemistry and profitability
Being an independent advisor can have both its advantages and disadvantages. For Michael Zagari and Edward Simpson, of Zagari Simpson & Associates, they see the advantages, such as being able to implement the technology they want to help scale their business. That has become staple behind their My Planning process, which implements NaviPlan, financial planning software, to help their clients which range from young professionals to retirees. So far, the formula has led to success for the pair as they continue to expand their client base and AUM.
The pair met while working at Investors Group a decade ago. "We worked together for four years," remembers Zagari. "In 2011, I moved to Peak Financial and Ed and I decided to open an office together about a year after. We started the practice with one other advisor and were originally managing about $25 million. At the time we didn't really have a process, just old tricks we learned at Investors Group."
As the duo evolved their practice, and their AUM, which for the duo alone sits at just over $100 million ($220 million for the entire team), they started implementing financial planning and established their My Planning process, which incorporates the NaviPlan software. At the same time, they started a radio show, the My Planning Hour on CJAD in Montreal. The process, along with the show, led to a huge explosion in their clients. "I think the show made the My Planning process relatable," said Simpson. "Then, when we moved to fee-based, clients were really able to see that we believed in the way we were running the business and stood behind our process."
The pair are very diligent when it comes to the clients they take in. Their first step is to see if there is a long-term fit. The relationship is built on the three pillars of their process: trust, chemistry and profitability. "Trust is such a big deal because clients need to trust in our recommendations without a doubt, or else the relationship won't last," explained Zagari. "With chemistry, we want to make sure we have clients who bring the right attitude to the table. With profitability, the relationship has to be profitable for both parties."
After they have gained sufficient information about the client, they build out a plan in NaviPlan that allows them to take into consideration the current situation and future goals. They run the plan through stress tests and give access to the plan, digitally and in print, so that clients can always see it. "We educate our clients throughout the plan. We do a walk through so they understand why we are doing something. We also revisit the plan after six months and update it after a year. We don't just build it and forget it," added Simpson.
There is no doubt that technology has played a huge role in how the pair have been able to build the scale of their business. They have scheduling program that allows clients to view schedules and make different types of appointments online. Still, they say the biggest impact has been NaviPlan. "I think NaviPlan specifically has made it easy to dictate our value. Our clients see the impact of the decisions they make. It is nice because there is a milestones feature that shows if clients are on track to meet their retirement goals, based on their current situation." said Simpson.
For Zagari and Simpson, the biggest challenge is bulk trading, which is difficult in their current structure. Both say one of their short-term goals is to earn their portfolio manager designation in order to provide discretionary management.
Still, they both acknowledge that the services they currently offer wouldn't be possible without being an independent. "Being independent allows us to select the best product based on a client's best interest. Coming from Investors Group, it was a great place to learn the business. We realized that no competition is bad for the client. Competition leads to lower fees and better performance," said Simpson.
Both Zagari and Simpson appeared on this year's Top 50 Advisors list, something they took as a great recognition. "Being an independent can be lonely because there are no pre-set objectives. If you don't set them up for yourself you don't know how you are doing. Being on the Top 50 shows we are meeting the experience provided by the top advisors in the industry. It really helps us believe in what we are doing," said Zagari.
Now, in addition to getting their portfolio manager designations, they would like to incorporate more technology and grow their business. They say there is no limit to how many clients they will take on, they simply want to help as many people meet their financial goals as possible.
Zagari Simpson & Associates
Location: Montreal, QC
Year established: 2012
Employees: 28
AUM: $220 million
Target clients: Young professionals, near-retirees and retirees