Spring Financial Planning does more than just provide a financial plan, they bring together all of an individual's professionals to create their personal board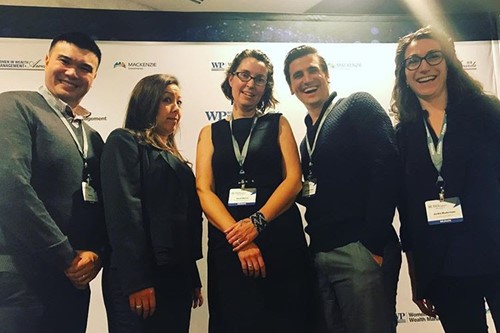 Putting together a client's 'board'
When Julia Chung, CEO, and senior financial planner with Spring Financial Planning, left traditional financial services, someone told her "Planning only? No one will pay for that!" Chung's response was if she made fantastic plans, people would. Now, eight years after shifting to just planning, Chung and her practice have been able to find success serving clients across Canada.
The advice only industry is still pretty small, Chung remembers that it was through a LinkedIn group that she met her business partner, Sandi Martin. "We each had our own independent advice-only firms," remembers Chung. "I started mine in 2011 and Sandi started hers in 2012. We used the LinkedIn group to share best practices. We realized that we had a lot in common and so I suggested we consider a partnership. We each had different specializations and realized we were a fit. We started working side-by-side and in 2017 decided to amalgamate."
Chung and Martin then added Kathryn Mandelcorn and Karen Richardson who formed their cash flow team. "I think the key to our success has been that we have a real vision and make sure to get the message out," said Chung. "Krysten Merriman, our marketing director, has really done a good job of pulling out what we represent. She uses the tools we have to effectively communicate that. The other key has been that we are mindful of the service we offer. We don't execute, we just plan. Clients still need an advisor or other professionals to do that. So we try to bring all professionals together, advisors, accountants, lawyers etc."
For Chung, she believes Spring is different because of the emphasis they put on a client's value system and goals to produce their plans. They realize every situation is unique and vary their plans according to an individual's needs.
"The first thing we do is have a discovery meeting to figure out what people hope to achieve," says Chung. "We really try to dig deep into our clients values and fears, we don't just have them fill out a form, we want to know as much about them as possible. Then, we provide a written proposal, where we ask for more info. Then, we provide a foundation report and go through it with them. We get to a deeper level to find out what they want out of life and their finances. Then, we create the plan that solves problems."
After creating the plan, Spring remains in contact with clients, checking in throughout the first year and then are just a phone call away if changes are needed.
While Spring has been able to thrive as an advice-only practice, Chung admits there were challenges. "Early on it was getting people to understand what we do and recognize our business model. By charging for hours, we really need to manage our capacity well. That's one of my challenges as the head of the practice. I make sure we are using all of our tools and that we are offering quality plans by taking advantage of the systems and processes we have."
Being advice only, Chung says allows them to focus on just one thing: planning, something she sees as a big advantage. "Traditional financial planning has usually been done while the planner is doing at least one other thing, portfolio management etc. But financial planning itself is a lot of hard work. It is hard to do any one thing well when you are doing multiple things."
A big part of Spring's business is based on technology. With all parties working remotely, Chung says they need to ensure they have great communication tools. "We use an internal messenger, powerful CRM, have encrypted spaces where clients can upload their information and we can manage the data transfer, so we are really heavy users of technology."
Some of their clients are tech savvy as well, using the plans created by Spring and managing their own wealth. "Many of our clients are do-it-yourselfers and manage their own wealth. We don't provide investment advice, we may say to accomplish your goal you need to achieve a return of X but we won't provide specifics. If they need that information, we refer them to an advisor," added Chung.
With their commitment to working with an individual and all of their professionals, Spring has been able to establish themselves and hope to continue along that path. "We work with all of their professionals to become the 'board' for the client. By treating them like a partner, there is less stress on the individual," said Chung.
Spring Financial Planning
Location: Vancouver, BC
Year established: 2017
Employees: 11
Advice only
Target clients: Cash flow team- for higher income, pre retirees, middle income and complex financial situations