Ninth annual awards ceremony recognizes champions and trailblazers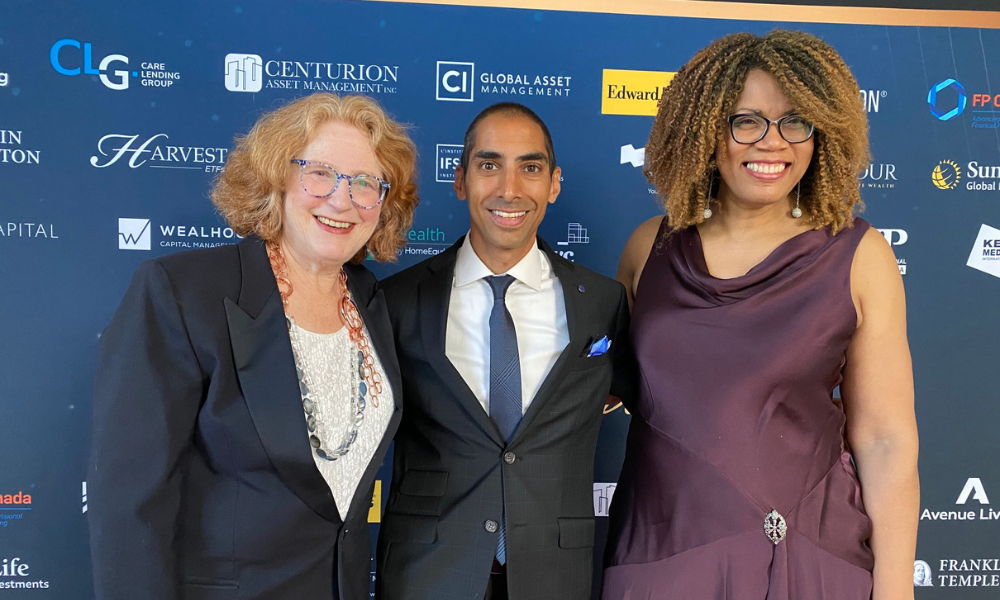 The Canadian wealth industry came together in Toronto last night to celebrate the best in class at the Wealth Professional Awards.
The ninth annual WP Awards, held in true gala style, brought together financial advisors, brokerages, fund managers, BDMs, and service providers for a night of festivities including a cocktail reception, dinner banquet with awards ceremony, and a post-awards celebration.
Hosting the event was Arisa Cox, best known as the host and executive producer of the hit reality series, Big Brother Canada. Cox is no stranger to the glitz and glamour of awards shows: aside from covering the Grammys, the Oscars, and the Sundance and Cannes film festivals, she's emceed the Canadian Screen Awards, the Banff World Media Festival, and other live events over the course of her expansive career.
A notable name from this year's crop of winners is Jackie Porter, who scooped the Equiton Award for Canadian Advisor of the Year. A tireless crusader for financial literacy and education, Porter has also graced the WP Awards stage before as the Female Trailblazer of the Year in 2021.
The CI Global Asset Management Award for Holistic Advisory Team of the Year went to Woodgate Financial while Wellington-Altus Private Wealth took two trips to the podium. Aside from the Wealhouse Capital Management Award for Employer of Choice, the Winnipeg-based independent firm took home the Trez Capital Award for Multi-Office Advisor Network/Brokerage of the Year.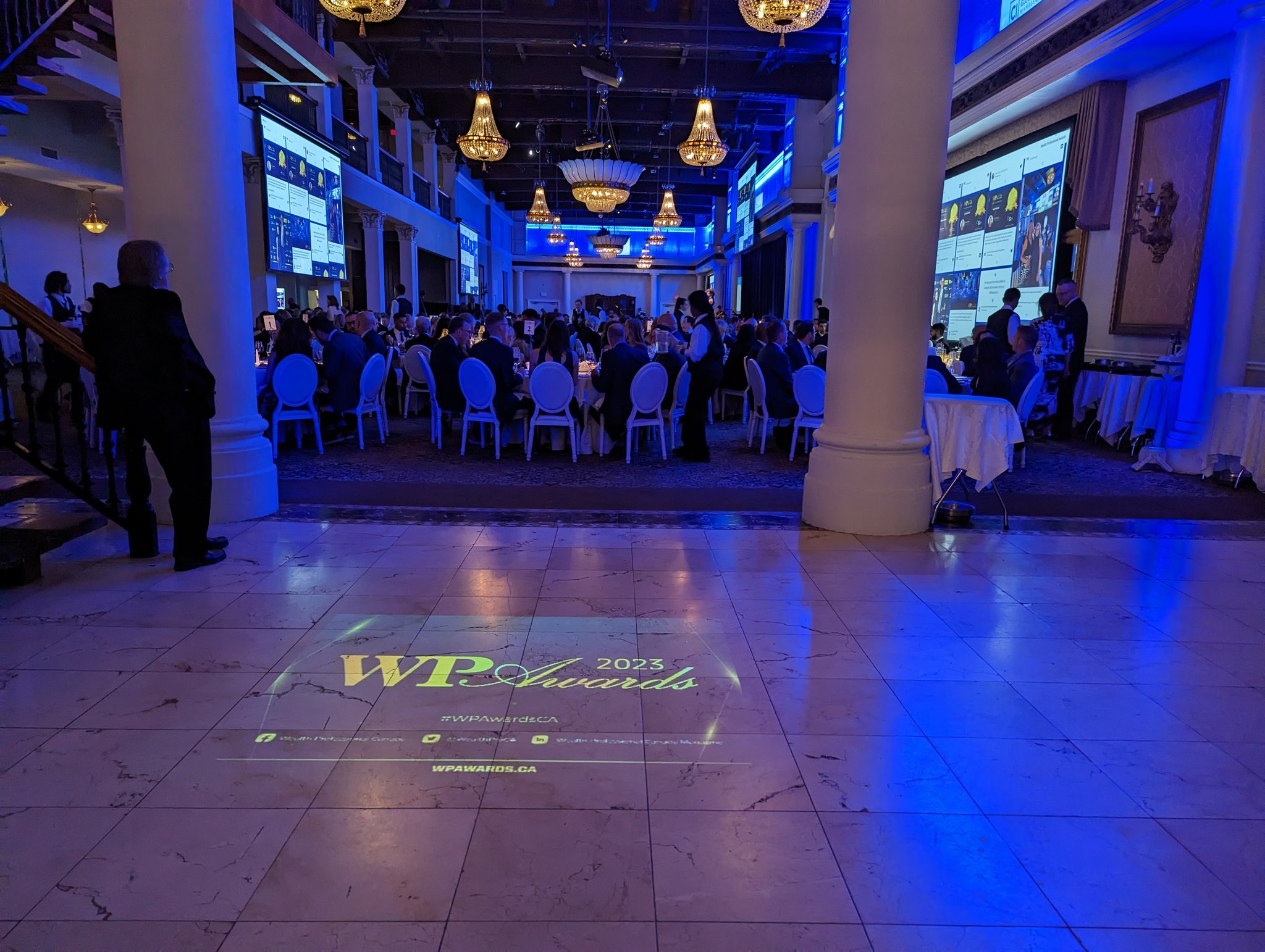 The FP Canada Award for Lifetime Achievement in the Financial Planning Industry, meanwhile, was presented to John Nicola. A veteran of the financial services industry for nearly 50 years, the founder of Nicola Wealth has garnered multiple recognitions for is business acumen and entrepreneurial vision, which was instrumental in building one of Canada's top firms dedicated to serving high-net-worth families, entrepreneurs, and professionals.
Nicola told WP the award was shared with everyone at the company who do a lot of the "heavy lifting" and added that the business' focus on financial planning is at the heart of its success.
"If you look at most of the people here tonight, they're in what I would call the wealth management, running the money business, which we do as well. But we're also in the financial planning business and spend a lot of our time with our clients on financial planning and estate planning, wills, and tax and stuff like that. So, we're still one of the few firms that are in the manufacturing side of the business and in the planning side of the business at the same time.
"At the end of the day, we're dealing with individuals - families, typically, not institutions - and individuals actually place a higher value on advanced planning than on investment returns. Now we get pretty good investment returns, but the fact is they look at the relationship. When they talk about why they are with us, they will eventually get to the investment returns but that's not where it starts."
Here is the full list of last night's winners:
BDM/Wholesaler of the Year: Emily Graham, iA Clarington Investments
The Edward Jones Award for Excellence in Philanthropy and Community Service: Aleem Visram, Transform Financial
The Nour Private Wealth Award for Rising Star Advisor of the Year: Jason Hunt, First Avenue Investment Counsel
ETF Innovator of the Year: Nirujan Kanagasingam, CI Global Asset Management
The Care Lending Group Award for CEO of the Year: Allison Taylor, Invico Capital Corporation
The IFSE Institute Award for Financial Literacy Champion: Anna Hilberry, National Bank Financial
WealthTech Service Provider of the Year: Purpose Advisor Solutions
Alternative Investment Solutions Provider of the Year: Invico Capital Corporation
The CI Global Asset Management Award for Holistic Advisory Team of the Year: Woodgate Financial Inc.
The Harvest ETFs Award for Female Trailblazer of the Year: Marie Phillips, Next Steps Planning with IPC Securities
The FP Canada Award for Lifetime Achievement in the Financial Planning Industry: John Nicola, Nicola Wealth
The Centurion Asset Management Award for Young Achiever of the Year: Gurtej Varn, White Coat Financial
Mutual Fund Provider of the Year: Sun Life Global Investments
Most Innovative Use of WealthTech: Investment Planning Counsel
The ICM Asset Management Award for Advisor of the Year - Alternative Investments: Ida Khajadourian, Richardson Wealth
The Wealhouse Capital Management Award for Employer of Choice: Wellington-Altus Private Wealth
The Sun Life Global Investments Award for Advisor of the Year – Responsible Investments: Sonia LeRoy, LeRoy Wealth Management Group
ETF Provider of the Year: CI Global Asset Management
The Avenue Living Asset Management Award for Portfolio/Discretionary Manager of the Year: Coreen T. Sol, CIBC Private Wealth, Wood Gundy
The National Bank Independent Network Award for Advisory Team of the Year (Under 10 Staff): McIver Capital Management, CG Wealth Management
The Trez Capital Award for Multi-Office Advisor Network/Brokerage of the Year: Wellington-Altus Private Wealth
The Franklin Templeton Award for Advisory Team of the Year (10 Staff or More): Abbott Wealth Management, Harbourfront Wealth Management
The Equiton Award for Canadian Advisor of the Year: Jackie Porter, Carte Wealth Management